Catalogs

>

log-EZ
Catalog excerpts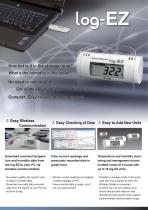 How hot is it in the storage room? What's the humidity in the cellar? No need to run a Get in the know, Compact, Easy-to-Use>an ■ Easy Wireless Communication ■ Easy Checking of Data ■BEasy to Add New Units Download recorded temperature and humidity data from the log-EZ to your PC via wireless communication. - No need to gather the log-EZ units to check or collect data. - Download recorded data automatically from the log-EZ to your PC at a set time of day. View current readings and previously recorded data in graph form. - Monitor current readings and highest / lowest readings on PC. - View recorded data in graph, print out, and save as text. Temperature and humidity monitoring and management across multiple rooms in a house with up to 16 log-EZ units. - Possible to manage a total of 16 log-EZ units with one computer to which the Wireless Dongle is connected. - A log-EZ can not only measure and record data but also relay the data recorded by other log-EZ units, expanding the wireless communication range.
Open the catalog to page 1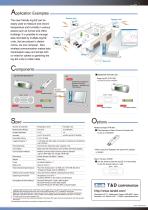 The user-friendly log-EZ can be easily used to measure and record temperature and humidity in various places such as homes and office buildings. It is possible to manage data recorded by multiple log-EZ units, that are placed in distant rooms, via one computer. Also, wireless communication makes data transmission easy and simple with no need for cables or gathering the log-EZ units to collect data. Components- *1 Logging Capacity is the amount of data which can be logged in the unit; when the capacity is full, the oldest data is overwritten and recording continues.ln order to store data...
Open the catalog to page 2
All T&D Corporation catalogs and technical brochures

Compare up to 10 products