Catalogs

>

IPC/LEANBOX
Catalog excerpts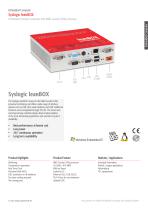 Embedded Computer Syslogic leanBOX Embedded Computer Embedded compact computer with AMD Geode LX700 processor Syslogic leanBOX The Syslogic leanBOX is based on the AMD Geode LX700 processor technology and offers a wide range of interface options such as USB, LAN, serial interfaces and CAN. Additional functions can be integrated through PC/104. The robust and uncompromising industrial design allows implementation in the most demanding applications and warrants long term availability. Best performance at lowest cost Low power 24/7 continuous operation Long term availability Debian 6.0 Product Highlights Product Feature Markets / Applications Watchdog Temperature supervision Real Time Clock Persistent Flash BIOS ESD- protection on all interfaces No active cooling required No moving parts AMD Geode LX700 processor 433 MHz / 874 MIPS RAM on Board Socket for CF Ethernet, PS/2, USB, RS232 PC/104 bus for card extension Isolated CAN Industrial Automation Retrofit / Legacy applications Refurbishing PLC replacement Your partner for reliable embedded computer and display solutions.
Open the catalog to page 1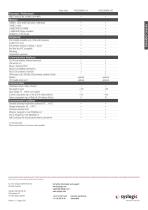 Order Code Processor / Performance AMD Geode LX700, 433MHz / 874 MIPS 128kB L1 cache (64kB instruction / 64kB data) 128kB L2 cache 128MB DDR333 SDRAM 1.44MB ROM Floppy emulation NV-RAM on 32 Pin Socket Peripherals VGA Graphic controller up to 1920x1440 resolution Socket for CF Card IDE Interface Standard (1 Master, 1 Slave)1 Real time clock PC compatible Watchdog Temperature supervisor Communication Interfaces PC/104 bus interface (internal connector) USB version 2.0 Mouse / Keyboard PS/2 Ethernet 10/100Mbit (Intel 82551) RS232 ESD protected (16550A) CAN version 2.0b, SJA1000, ESD...
Open the catalog to page 2
All Syslogic GmbH catalogs and technical brochures

Compare up to 10 products