Catalogs

>

Industrial PC/COMPACT C6
Catalog excerpts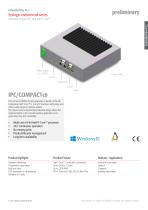 preliminary Power Supply 12 ... 24VDC 2x DP++ Audio IPC/COMPACTc6 This fan less COMPACTc6-ML generation is based on the 6th Generation Intel® Core™ i3, i5 and i7 processor technology and offers a wide range of interface options. The robust and uncompromising industrial design allows the implementation in the most demanding applications and guarantees long term availability. • Multi-core 64-bit Intel® Core™ processor • No moving parts • Product lifecycle management • Long term availability Product Highlights Product Feature Markets / Applications Hardware Watchdog Temperature supervision Real time clock ESD- protection on all interfaces Windows IoT ready Intel® Core™ i Series (6th Generation) up to 2.6GHz, 2 Cores up to 32GB RAM DP++, Ethernet, USB3, RS232, Mini PCIe Industrial Automation Medical Cleantech Building Automation Your partner for reliable embedded computer and display solutions.
Open the catalog to page 1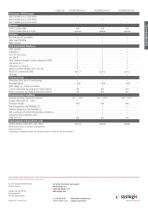 Processor / Performance Real time clock PC compatible Multi Stage Watchdog Battery backup Communication Interfaces micro SD Card socket 1 1 SATA 3 interface standard 2 (can be configured as RAID) 2 2 Technical Data Dimensions 204 x 180 x 57 mm (housing) • • Input voltage 12 ... 24VDC non-isolated • • Current consumption typ. [mA] @ 24V without Add-Ins tbd tbd Power consumption typ. [Watt] @ 24V without Add-Ins tbd tbd Environmental Conditions Standard operating temperature (ambient) 3 0°C ... +55°C 0°C ... +55°C Storage temperature -20 ......
Open the catalog to page 2
All Syslogic GmbH catalogs and technical brochures

Compare up to 10 products