Catalogs

>

SEISA Conveyor Drives- Extra Large Sizes
Catalog excerpts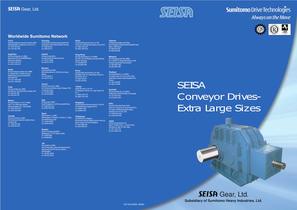 CAT.NO.00000 0000H Subsidiary of Sumitomo Heavy Industries, Ltd. Gear, Ltd. Wakihama 4-chome, Kaizuka-shi, 8555, Japan 72-431-6225 72-433-3227 SEISA Conveyor Drives- Extra Large Sizes
Open the catalog to page 1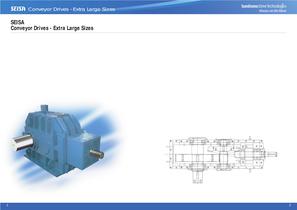 2 Features "Á'¥ œStronger Teeth We use 25 degree pressure angle teeth on all of our gearing. In comparison with our competitor's 20 degree pressure angle teeth, the 25 degree pressure angle forms a thicker tooth root and provides higher load capacity to withstand heavier shock loads. œLonger Bearing Life Our bearings have been selected to provide L10 lives in excess of 60,000 hours (with 1.50 mechanical service factor). œIncreased Cooling Performance Your desired operating temperature will be maintained by selection of the appropriate cooling method including shaft-driven or electric...
Open the catalog to page 2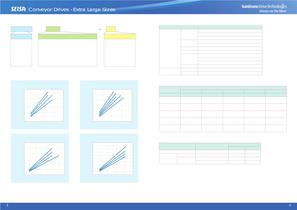 4 Standard Specifications Painting Specifications Recommended Lubricants 10 11.2 12.5 14 16 18 20 22.4 25 28 31.5 35.5 40 45 50 56 63 71 80 90 Nominal reduction ratio Item Type of oil JIS K2219 Gear oil Industrial use Class 2 ISO VG68 ISO VG100 ISO VG150 ISO VG220 ISO VG 320 DAPHNE SUPER GEAR OIL 68 DAPHNE SUPER GEAR OIL 100 DAPHNE SUPER GEAR OIL 150 DAPHNE SUPER GEAR OIL 220 DAPHNE SUPER GEAR OIL 320 MOBIL GEAR 600XP68 MOBIL GEAR 600XP100 MOBIL GEAR 600XP150 MOBIL GEAR 600XP220 MOBIL GEAR 600XP320 SHELL OMALA 68 SHELL OMALA 100 SHELL OMALA 150 SHELL OMALA 220 SHELL OMALA 320 BONNOC M68...
Open the catalog to page 3
All SUMITOMO Drive Technologies America catalogs and technical brochures

Archived catalogs

Compare up to 10 products