Catalogs

>

STILL

>

EXG Technical Data
Catalog excerpts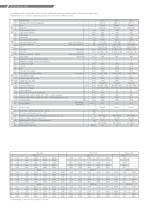 In accordance with VDI guidelines 2198 and 3597, respectively, this specification applies to the standard model only. Alternative tyres, mast types, ancillary equipment, etc. may result in different values. h1': Max height of mast with forks raised to 150 mm.
Open the catalog to page 2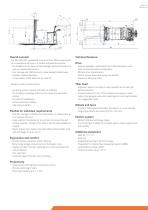 Overall concept: The new EXG tiller operated lift truck from STILL offers every benefit of a conventional lift truck in a modern and powerful machine: - No straddle arms for easy and swift storage/retrieval of loads or to pick up enclosed load carriers. - Fork carriage with FEM interface to allow standard attachments. - Excellent residual capacities. - Compensation of fork deflection by mast tilt. Benefits of tiller operated trucks: - No driving licence required, instruction is sufficient. - No mounting and leaving of the truck for quick and easy order picking. - No hazard to pedestrians. -...
Open the catalog to page 3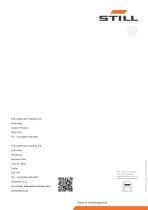 STILL Materials Handling Ltd Aston Way Leyland Preston PR26 7UX Tel.: +44 (0)845 603 6827 STILL Materials Handling Ltd Jacks Way Business Park Clyst St. Mary Exeter EX5 1FG Tel.: +44 (0)345 603 6827 info@still.co.uk For further information please visit: www.still.co.uk STILL is certified in the following areas: Quality management, occupational safety, environmental protection and energy management. EXG EN 04/17 Subject to technical modifications. Hill Barto
Open the catalog to page 4
All STILL catalogs and technical brochures

Archived catalogs
Compare up to 10 products