Catalogs

>

SPIROL

>

SPD, CXA, CXD, CXE CRD
Catalog excerpts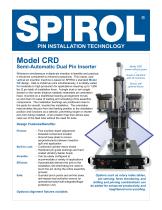 Semi-Automatic Dual Pin Inserter Whenever simultaneous multiple-pin insertion is feasible and practical, it should be considered to enhance productivity. This robust, dual vertical pin insertion machine is based on SPIROL's standard Model CR design. Able to install two pins simultaneously, it is ideally suited for moderate to high production for applications requiring up to 1,800 lbs (2 pin total) of installation force. A single dual or twin single (based on the center distance needed) retractable pin orientation head, mounted on a shaft/linear bearing arrangement moves up and down for ease of loading and unloading of the assembly components. The installation bushings are positioned close to the parts for smooth, trouble free installation. The orientation head shuttles the pins from the feeding position to the installation position and functions as a selector, preventing longer or shorter pins from being installed. A two position trap door allows easy clear-out of the feed tube without the need for tools. Model CRD shown without guard — Guard is standard with all machines — Shown with optional fixture Design Features/Benefits: Precise: - Fine insertion depth adjustment - Doweled component location - Ground base plate to ensure perpendicularity between insertion quill and application Built to Last: - Cushioned cylinder return stroke - Hardened pin guide bushings and hard coated vibratory feeder bowls Versatile: - Can be easily configured to accommodate a variety of applications Efficient: - Automatically delivers the pins to the installation site eliminating the need to touch the pin during the entire assembly process Safe: - Guarded pinch points and anti-tie down, anti-repeat dual activation senors (or optional foot switch with integrated finger protection unit) Optional alignment fixtures available. Options such as rotary index tables, pin sensing, force monitoring, and drilling and pinning combinations can be added for enhanced productivity and heightened error-proofing.
Open the catalog to page 1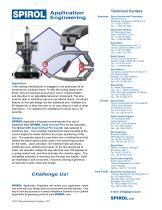 Application Engineering Technical Centers Americas Application: A die casting manufacturer is engaged in the production of an all-aluminum hacksaw frame. To affix the cutting blade to the frame, pins are required at each end; one in a fixed position, and the other in an adjustable tensioner component. The pins must be able to withstand rigorous use without failure. An added feature on this saw design are two additional pins, installed at a 45 degree tilt, to allow the user to cut very close to a wall or other obstruction. The objective for installation for all (4) pins is 30 seconds....
Open the catalog to page 2
All SPIROL catalogs and technical brochures

Compare up to 10 products