Catalogs

>

SPIROL

>

Model PMH - Heavy Duty Manual Pin Inserter
Catalog excerpts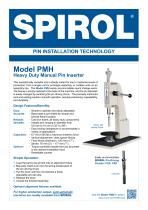 Heavy Duty Manual Pin Inserter This exceptionally versatile tool is ideally suited for low to moderate levels of production: from a single unit for prototype assembly, to multiple units on an assembly line. The Model PMH easily accommodates quick change-overs. The fixture is simply replaced at the base of the machine, and the pin diameter is easily changed by switching the pin driving chuck. The precisely machined rack and casting results in smooth operation, precise positioning, repeatability, and durability. Design Features/Benefits: Easy: Accurate: - Simple to operate and easily adjustable - Base plate is pre-drilled for simple and precise fixture location Reliable: - Cast iron frame, all heavy duty components Versatile: - Installs pins ranging in diameter from 0.8 mm to 10 mm (1/32" to 3/8") - Easy tooling changeover to accommodate a variety of applications Capacities: - 6.7 kN (1500 lbs.) maximum insertion force - Vertical adjustment: Uses spacer blocks - Fixed throat dimension: 120 mm (4.7") - Stroke: 76 mm (3") – 177 mm (7") Options: - Torque-controlled handle that can be preset to the desired installation force - Resettable counter Simple Operation: 1. Load the part to be pinned into an alignment fixture 2. Manually insert a pin into the spring-loaded jaws of the pin-driving chuck 3. Pull the lever until the unit reaches a finely adjustable pre-set stop 4. Release the lever 5. Unload the finished assembly Shown with optional fixture Easily accommodates SPIROL Pin-Driving Chucks: CXA, CXD Optional alignment fixtures available. For higher production output, semi-automatic machines are readily available from SPIROL.
Open the catalog to page 1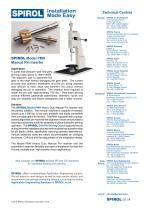 Installation Innovative fastening solutions. Lower assembly costs. Made Easy Coiled Spring Pins Slotted Spring Pins Solid Pins SPIROL Model PMH Manual Pin Inserter Alignment Dowels / Application: Bushings Spacers & Rolled Tubular Components Compression Limiters A pump manufacturer was manually pinning brass gears to steel shafts. The objective was to assemble the gear to the shaft without damaging the gear teeth. The current process was operator dependent and the pin being installed was difficult to hold, align and hammer into place without damaging the pin or assembly. The insertion force...
Open the catalog to page 2
All SPIROL catalogs and technical brochures

Compare up to 10 products