Catalogs

>

SPIROL

>

Consumer Appliance Applications Flyer
Catalog excerpts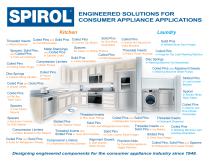 ENGINEERED SOLUTIONS FOR CONSUMER APPLIANCE APPLICATIONS Kitchen Laundry Solid Pins Coiled Pins Threaded Inserts Coiled Pins and Solid Pins in Counter Top Mixers in Waste Disposal Metal Stampings and Coiled Pins Spacers, Solid Pins, and Coiled Pins Coiled Pins in Folding Table Hinges Disc Springs Compression Limiters Coiled Pins for Dish Rack Assemblies as Cart Wheel Axles Threaded Inserts for Caster on Sliding Shelves Solid Pins Coiled Pins in Hinge for Top Load Washing Machine Disc Springs in Washing Machine Tub Assemblies in Cabinet Swing Handles in Washer/Dryer Door Hinges in Plastic Pump Housings Coiled Pins Solid Pins in Swivel Arm Mounts for Video Monitors Coiled Pins and Alignment Dowels in Washing Machine Water Pumps Coiled Pins in Faucet Controls Slotted Pins in Load Leveler Bracket Coiled Pins and Solid Pins in Drawer Slides Coiled Pins in Electric Motor Rotor Stator in Flip-Top Trash Cans Coiled Pins in Cart Caster Mounts Threaded Inserts Slotted Pins in Electronic Controls for Dish Washer Compression Limiters for Dish Washer Frame in Plastic Bracket for Bin Support Coiled Pins and Solid Pins in Axles for Refrigerator Wheels in Sink Drain Fittings Solid Pins in Compressor Mounting Damper in Oven and Refrigerator Kick Plates Threaded Inserts and Slotted Pins in Oven Door Handles Compression Limiters Coiled Pins and Solid Pins Solid Pins Threaded Inserts and Solid Pins in Ice Makers in Oven Control Panel Hinges Alignment Dowels Precision Nuts in Dish Washer Water Pumps Threaded Inserts for Countertop Appliance Toggle Switches in Washer and Dryer Brake Assemblies Slotted Pins Coiled Pins in Washing Machine Load Leveling Assemblies in Oven Door Hinges Coiled Pins, Solid Pins and Spacers for Refrigerator and Freezer Hinges Designing engineered components for the consumer appliance industry since 1948.
Open the catalog to page 1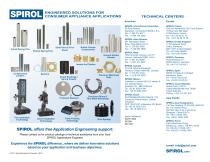 ENGINEERED SOLUTIONS FOR CONSUMER APPLIANCE APPLICATIONS TECHNICAL CENTERS Americas SPIROL International Corporation 30 Rock Avenue Danielson, Connecticut 06239 U.S.A. Tel. +1 860 774 8571 Fax. +1 860 774 2048 Coiled Spring Pins Slotted Spring Pins Ground Hollow Dowels Inserts for Plastics Compression Limiters Dowel Bushings / Spring Dowels Precision Washers Insert Installation Technology Parts Feeding Technology Precision Machined Nuts Precision Shims & Thin Metal Stampings Disc Springs SPIROL offers free Application Engineering support. Please contact us for product catalogs or technical...
Open the catalog to page 2
All SPIROL catalogs and technical brochures

Compare up to 10 products