Catalogs

>

hcv
Catalog excerpts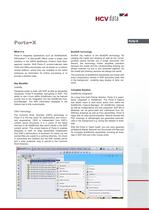 Porta~X Porta~X What it is MultiDIR Technology Porta~X integrates applications such as SolidWorks®, DWGeditor™ or Microsoft® Office under a single user interface in the SAP® NetWeaver Product Data Management module. With Porta~X, product-relevant data (CAD and Office documents) can be stored on a uniform central platform, where they are available to the entire enterprise as information for further processing or to provide a decision base. Another key feature is the MultiDIR technology: By merging the model and drawing as well as the corresponding neutral formats into a single Document Info Record, this technology further simplifies operation because the model and the corresponding drawing are always checked out and in and versioned together. So the model and drawing versions are always the same! Key Benefits The structures of SolidWorks assemblies are stored with every component's version in SAP document parts lists in the background - enabling easy display of older versions. Usability Designers prefer to work with SAP as little as absolutely necessary. Porta~X simplifies navi-gating in SAP. The ability to use it from within SolidWorks can be learned quickly due to the integration into the SolidWorks Feature-Manager. The SAP information displayed in the feature tree is fully customizable. CWD Technology The Common Work Directory (CWD) technology in Porta~X is the key factor for performance and concurrent engineering. CWD is independent from SAP´s content server structures. It is a cache of the latest versions of all SolidWorks files which reside in the SAP content server. This unique feature of Porta~X enables designers to work on large assemblies independent from SAP´s performance or workload. On check out, the cached files are copied to a working directory. On check in documents are checked into the SAP content server and a write protected copy is placed in the Common Work Directory. Complete Solution SolidWorks Integration As a long time Gold Partner Solution, Porta~X is seamlessly integrated in SolidWorks. The Porta~X feature tree allows users to start every action from within the SolidWorks Feature-Manager. All SolidWorks features as well as configurations are fully supported. SAP Bill of Materials can be gene-rated and maintained from SolidWorks drawings as well as from assemblies. Porta~X helps with an easy synchronization. Neutral formats like PDF drawings or eDrawings® are generated automatically in the background e.g. during the release of drawings. With the Porta~X "batch mode" you can even generate all Material Master Records and Document Info Records for complete SolidWorks assemblies including all drawings in SAP with just a few mouse clicks.
Open the catalog to page 1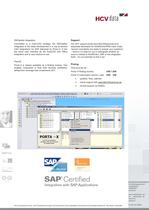 DWGeditor Integration Support Committed to a multi-CAD strategy, the DWGeditor Integration is the latest development in a row of several CAD integrations for SAP delivered by Porta~X. It has the same user interface as the AutoCAD and Office integration and is very intuitive to use. Our 24/7 support portal www.MyCADservices.de is especially developed for SolidWorks/PDM users. Experienced consultants are ready to answer your questions – there is no need for you to distinguish whether an issue is related to SolidWorks, SAP or the integration itself – it's our business to find it out. FlexLM...
Open the catalog to page 2
All SOLIDWORKS catalogs and technical brochures

Archived catalogs

Compare up to 10 products