Catalogs

>

DRAFTSIGHT
Catalog excerpts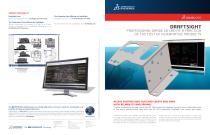 PRODUCT AVAILABILITY DraftSight Free The Enterprise Pack Offering for DraftSight Download DraftSight for Free at DraftSight.com/Download. To request a quote, go to www.DraftSight.com/RAQ. To learn more about, to purchase, or to sign up for a free, 30-day, no-obligation trial of DraftSight Professional, go to DraftSight.com/Professional. For more information about DraftSight, go to DraftSight.com. PROFESSIONAL-GRADE 2D CAD AT A FRACTION OF THE COST OF ALTERNATIVE PRODUCTS ©2014 Dassault Systèmes. All rights reserved. 3DEXPERIENCE, the Compass icon and the 3DS logo, CATIA, SOLIDWORKS, ENOVIA, DELMIA, SIMULIA, GEOVIA, EXALEAD, 3D VIA, BIOVIA, and NETVIBES are commercial trademarks or registered trademarks of Dassault Systèmes or its subsidiaries in the U.S. and/or other countries. All other trademarks are owned by their respective owners. Use of any Dassault Systèmes or its subsidiaries trademarks is subject to their express written approval. The Professional Pack Offering for DraftSight Our 3DEXPERIENCE platform powers our brand applications, serving 12 industries, and provides a rich portfolio of industry solution experiences. Dassault Systèmes, the 3DEXPERIENCE® Company, provides business and people with virtual universes to imagine sustainable innovations. Its world-leading solutions transform the way products are designed, produced, and supported. Dassault Systèmes' collaborative solutions foster social innovation, expanding possibilities for the virtual world to improve the real world. The group brings value to over 170,000 customers of all sizes in all industries in more than 140 countries. For more information, visit www.3ds.com. Corporate Headquarters Dassault Systèmes 10, rue Marcel Dassault CS 40501 78946 Vélizy-Villacoublay Cedex France Americas Dassault Systèmes SolidWorks Corporation 175 Wyman Street Waltham, MA 02451 USA Phone: 1 800 693 9000 Outside the US: +1 781 810 5011 Email: generalinfo@solidworks.com Asia-Pacific Dassault Systèmes K.K. ThnkPark Tower 2-1-1 Osaki, Shinagawa-ku, Tokyo 141-6020 Japan ACCESS EXISTING DWG FILES AND CREATE NEW ONES WITH RELIABILITY AND SAVINGS If you're frustrated by the high cost of your 2D CAD licenses and upgrades, forced to have a subscription plan, or feel you're getting limited value from your 2D CAD investments, DraftSight ® can answer your needs. DraftSight's familiar user interface, minimal learning curve, and easy transition from your current application provides reliable DWG® compatibility for legacy or current projects. It can also help with the challenges of 2D compliance, migration to Microsoft® Windows® 7 or 8 (which could create compatibility issues with your current 2D CAD product), or using LISP routines. At the same time, DraftSight offers 50 to 80 percent savings and gives you the option of using a network license that is easy-to-deploy and manage.
Open the catalog to page 1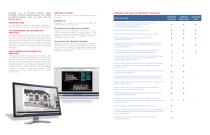 DraftSight runs on Microsoft Windows, Apple® Macintosh®, and Linux® operating systems, and is backed by Dassault Systèmes. Users can choose from the following options. DRAFTSIGHT SUPPORT DRAFTSIGHT FREE DraftSight Free includes online community support for students, hobbyists, and individuals. The free version of DraftSight is for students, hobbyists, or other individuals who need a straightforward 2D CAD product. THE PROFESSIONAL PACK OFFERING FOR DRAFTSIGHT DraftSight Professional is for small and medium size companies that need a professional-grade CAD product with powerful, time-saving...
Open the catalog to page 2
All SOLIDWORKS catalogs and technical brochures

Archived catalogs

Compare up to 10 products