Catalogs

>

3D COMPONENT DESIGNER
Catalog excerpts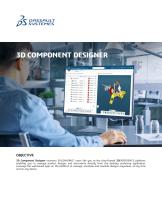 lDRSSRULT SWSTEMES Physical Pr... Orhit $1 PhysicalPr... Base * ® Shalt sprinlderfDeraull) Shall sprtnfc.. A.1 * ® Low Bearing spmW... LovrerBeart... A.I i * ® «3askeisprinktei(De<a... Gasketspfl... A.1 * ® Upper washer sprtnM... UpperWas... A.1 > ♦ ® Upper8eatingsprinl(l... UpperBean... A.1 * ® Springy tearing... Spring-upp... A.1 * ® washer-Sw'ngarmsp... W&sher-Sw... A.1 * ® Actolor(Default) Aduator(De... A1 OBJECTIVE 3D Component Designer connects SOLIDWORKS® users like you to the cloud-based 3DEXPERIENCE platform, enabling you to manage product designs and documents directly from the desktop authoring application. Leverage the web-based apps on the platform to manage, annotate and visualize designs anywhere, at any time and on any device.
Open the catalog to page 1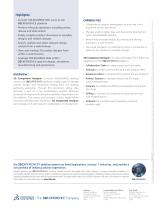 • Connect SOLIDWORKS CAD users to the 3DEXPERIENCE platform • Perform lifecycle operations including revise, release and lock/unlock • Easily navigate product structures to visualize designs and related changes • Search, explore and select relevant design context from a web browser • View and markup 3D product designs from within a web browser • Leverage SOLIDWORKS data within 3DEXPERIENCE apps for design, simulation, manufacturing and governance CAPABILITIES • Collaborate on product development at any time, from anywhere and on any device • Manage product design data and documents directly...
Open the catalog to page 2
All SOLIDWORKS catalogs and technical brochures

Archived catalogs

Compare up to 10 products