Catalogs

>

Flat belts
Catalog excerpts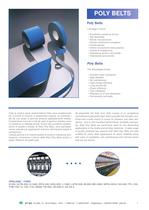 Poly Belts I vantaggi in breve: • Eccellente resistenza all'uso • Alta flessibilità • Niente manutenzione • Elevato rendimento energetico • Durata elevata • Ottimo sfruttamento della potenza • Facilità di installazione • Resistenza all'olio e all'umidità • Antistaticità permanente Poly Belts The advantages briefly: • Excellent wear resistance • High flexibility • No maintenance • High energy efficiency • Long service life • Power efficiency • Fast installation • Resistant to oil and dampness • Permanently anti-static Tutte le cinghie piane poliammidiche Nitta sono caratterizzate da un'anima di trazione in poliammide coperta, su entrambe i lati da uno strato di gomma sintetica oppositamente trattata. Caratteristica comune a tutti gli strati di gomma sintetica sono la resistenza e l'elevata durata. Grazie alle eccellenti caratteristiche di qualità e durata, le Nitta Poly Belts, sono particolarmente indicate per applicazioni estreme nell'industria tessile e cartotecnica. L'ampia gamma e le notevoli qualità di durata e resistenza all'abrasione, consentono l'utilizzo delle Nitta Poly Belts anche in settori differenti da quelli citati. All polyamide flat belts from Nitta consist of an exceptional monofilament polyamide layer which provides the strength combined with a wide choice of covers for abrasion and wear resistance. Due to their excellent performance, durability and quality, Nitta Poly Belts are particularly ideal for the demanding applications in the textile and printing industries. A wide range of quality products has ensured that Nitta Poly Belts are also suitable for many other applications for which reliability along with ease of installation, low maintenance and minimal power loss are key factors. • • • • TIPOLOGIE / TYPES D-250; GLTB-500; H-1000; IRTA-350; KSG-250; L-1000; LATW-350; M-500; MH-3000; NRTA-500-6; SG-500; TFL-10S; TFM-15S; TL-10S; TTA-1000N; TW-500; XH-500-3; XH-3S-3. SIT SpA Via Watt, 15 - 20143 Milano - ITALY - T. 02891441 F. 0289122337 - info@sitspa.it - CINGHIE PIANE (060.00) POLY BELTS 1
Open the catalog to page 1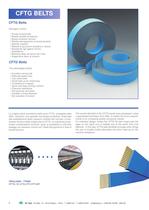 Le cinghie piane aramidiche della serie CFTG, sviluppate dalla Nitta, utilizzano una speciale tecnologia produttiva, finalizzata alla soddisfazione delle crescenti richieste del mercato. La particolare struttura delle cinghie piane CFTG, ne sottolinea le particolari caratteristiche tecniche, quali: la possibilità di utilizzare pulegge con diametro minimo ed i ridotti allungamenti in fase di tensionamento. The aramid flat belts of the CFTG-series were developed, using a specialised technique from Nitta, to satisfy the future requirements of an increasing quality conscious market. It's...
Open the catalog to page 2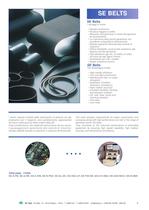 SIT SpA Via Watt, 15 - 20143 Milano - ITALY - T. 02891441 F. 0289122337 - info@sitspa.it - CINGHIE PIANE (060.00) 3 SE Belts I vantaggi in breve: • Elevato rendimento • Struttura leggera e sottile • Nessuna manutenzione e niente allungamenti da strisciamento • La mancanza della giunta garantisce una eccellente compattezza dimensionale • Elevata regolarità dimensionale durante la rotazione • Ottima flessibilità, eccezionale resistenza alle flessioni ed alla abrasione • Alta resistenza agli olii, al freddo, al caldo, all'ozono ed agli agenti chimici • Antistaticità per tutti i modelli • Basse...
Open the catalog to page 3
All SIT S.p.A. catalogs and technical brochures

Archived catalogs

Compare up to 10 products