Catalogs

>

Sikkagard 700S
Catalog excerpts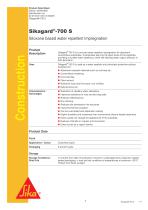 Product Data Sheet Siloxane based water repellent impregnation Sikagard -700 S is a one part water repellent impregnation for absorbent cementitious substrates. It penetrates well into the open pores of the substrate, providing a durable water repellency, while still allowing water vapour diffusion in both directions. Uses Sikagard®-700 S is used as a water repellent and colourless protective surface ■ Absorbent exposed materials such as concrete etc.. ■ Brickwork (clay and lime sand, non vitrified). ■ Reduction of capillary water absorption. ■ Improves resistance to frost and de-icing salts. ■ Reduces dirt penetration into the pores. ■ Improves thermal insulation. ■ Can be overcoated with dispersion coating. ■ Higher durability and resistance than conventional silicone based treatments. ■ Does usually not change the appearance of the substrate. ■ Reduces chloride ion ingress and movement. ■ Does not act as a vapour barrier. Product Data Appearance / Colour Colourless liquid. Storage Conditions / 12 months from date of production if stored in undamaged and unopened, original Shelf Life sealed packaging, in cool and dry conditions at temperatures at maximum +20°C. Protect from direct sunlight.
Open the catalog to page 1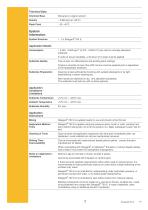 Technical Data Chemical Base Siloxanes in organic solvent. Flash Point System Information System Structure Application Details Consumption ~ 0.300 - 0.500 kg/m2 (0.375 - 0.625 l/m2) per coat for normally absorbent substrate. In order to ensure durability, a minimum of 2 coats must be applied. Substrate Quality Free of dust, oil, efflorescence and existing paint coatings. Cracks in concrete of more than 200 microns must be repaired prior to application of the hydrophobic treatment. Substrate Preparation Cleaning is best achieved by brushing with suitable detergents or by light blastcleaning...
Open the catalog to page 2
Curing Details Sikagard®-700 S does not require any special curing but must be protected from rain for at least 3 hours at +20° C. Value Base All technical data stated in this Product Data Sheet are based on laboratory tests. Actual measured data may vary due to circumstances beyond our control. Local Restrictions Please note that as a result of specific local regulations the performance of this product may vary from country to country. Please consult the local Product Data Sheet for the exact description of the application fields. Health and Safety Information Curing Treatment For...
Open the catalog to page 3
All SIKA INDUSTRY catalogs and technical brochures

Archived catalogs

Compare up to 10 products