Catalogs

>

SikaForce®-7718 L100
Catalog excerpts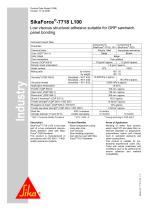 Product Data Sheet (1836) Version 17.12.2008 SikaForce®-7718 L100 Low viscous structural adhesive suitable for GRP sandwich panel bonding Technical Product Data Chemical base Color (CQP1 001-1) Color mixed Cure mechanism Density (CQP 006-5) Density mixed (calculated) Solids content Mixing ratio Viscosity2 (CQP 538-2) by volume by weight Brookfield – RVT 6/20 Brookfield – RVT 2/20 Brookfield – RVT 6/20 Viscosity (mixed) Application temperature Pot-life2 (CQP 536-3) Open time2 (CQP 590-1) Press time2 (CQP 590-1) Shore D hardness2 (CQP 537-2) Tensile strength3 (CQP 545-2 / ISO 527) Elongation at break3 (CQP 545-2 / ISO 527) Tensile lap-shear strength3 (CQP 546-2 / ISO 4587) Shelf life 1000 l container (storage between 10 and 30°C) smaller packaging 1) CQP = Corporate Quality Procedure Description ® SikaForce -7718 L100 is the base part of a two component polyurethane adhesive used with SikaForce®-7020 Hardener. This product is manufactured in accordance with ISO 9001 / 14001 quality assurance systems. Component A Component B SikaForce®-7718 L100 SikaForce®-7020 Polyols, filled Isocyanate derivatives Beige Brown Beige Poly addition 1.6 g/cm³ approx. 1.2 g/cm³ approx. 1.5 g/cm³ approx. 97% 100% 100 : 25 100 : 19 10,000mPa·s approx. 90 mPa·s approx. 3,000 mPa·s approx. 15-30°C 100 min. approx. 130 min. approx. 360 min. approx. 65 D approx. 2 10 N/mm approx. 12% approx. 2 6 N/mm approx. 6 months – 12 months 9 months Product Benefits - Room temperature curing - Long open time - Low viscosity - Good wetting properties - Can also be used with Sika Force®-7010 Hardener Areas of Application Bonding of metal, fibre cement, wood, ridig PVC and glass fibre reinforced polyester to polystyrene, polyurethane foams and mineral wool in sandwich elements and other constructions. This product is suitable for professional experienced users only. Tests with actual substrates and conditions have to be performed to ensure adhesion and material compatibility.
Open the catalog to page 1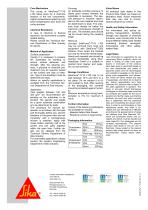 Chemical Resistance In case of chemical or thermal exposure, we recommend a project related testing. Please consult the Technical Service Department of Sika Industry for advice. Method of Application Surface preparation Usually it is necessary to prepare the substrates for bonding to ensure optimal adhesion and strength. After the cleaning process, a physical or chemical pretreatment may be required, based on the surface and type of material. Type of pre-treatment must be determined by tests. Advice on specific applications is available from the Technical Service Department of Sika...
Open the catalog to page 2
All SIKA INDUSTRY catalogs and technical brochures

Archived catalogs

Compare up to 10 products