Catalogs

>

SikaFast®-5221
Catalog excerpts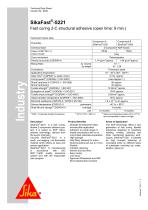 Technical Data Sheet Version 09 / 2005 SikaFast®-5221 Fast curing 2-C structural adhesive (open time: 9 min.) Technical Product Data Component A Component B SikaFast®-5221 SikaFast®-5200 Chemical base 2-Component ADP Acrylic 1) White Black Colour (CQP 001-1) Colour mixed Grey Cure mechanism Polymerisation Density (uncured) (CQP006-4) 1,14 g/cm3 approx. 1,46 g/cm3 approx. Mixing Ratio by volume 10 : 1 by weight 10 : 1,28 Consistency Thixotropic paste Application temperature 10° - 40°C (50°- 105°F) Open time2) (CQP526-1), (static mixer) 9 min. approx. 2) Curing speed (CQP546-1 / ISO 4587) (see diagram 1 ) Shore hardness A (CQP023-1 / ISO 868) 90 approx. Shore hardness D 50 approx. 2) Tensile strength (CQP036-1 / ISO 527) 10 N/mm2 approx. 2) Elongation at break (CQP036-1 / ISO 527) 150% approx. Tensile-shear strength2) (CQP546-1 / ISO 4587) 8 N/mm2 approx. Glass transition temperature (CQP509-1 / ISO 4663) 50°C approx. 13 Electrical resistance (CQP079-2 / ASTM D 257-99) 1,6 x 10 Ω cm approx. Service temperature (CQP513-1) permanent -40° to + 80°C Shelf life and storage3) (CQP016-1) cartridge 9 months pail 12 months 9 months 1) CQP = Corporate Quality Procedures Description SikaFast®-5221 is a fast curing, flexible 2-component adhesive system. It is based on ADP, Sika's polymer technology, derived from the acrylic chemistry. Uncured SikaFast®-5221 is a pasty, non-sagging, non-flammable material which allows an easy and precise application. ® SikaFast -5221 is manufactured in accordance with ISO 9001 / 14001 quality assurance system and with the responsible care program. Product Benefits - Strength development within minutes after application - Adhesion to a wide range of metals and plastics with no or only limited substrate preparation - High strength - Gap filling, allowing for manufacturing tolerances (up to 3 mm) - Flexible - Vibration damping - Solvent and acid free - Easy mixing - Low odour - Approved Wheelmark and NSF R2 (incidental food contact) Stored at temperature below 25°C (77°F) and not exposed to direct sun light Areas of Application The ADP technology offers a new generation of fast curing, flexible adhesives designed to substitute welding, riveting, clinching and other mechanical fastening techniques. SikaFast®-5221 is suitable for high strength fastening of concealed joints on different types of substrates including top coats, plastics, glass etc.
Open the catalog to page 1
Diagram: Open time and curing speed for SikaFast®-5221 Chemical Resistance For advice contact the Technical Service Department of Sika Industry. Adhesion results The following table summarises lap-shear test results obtained with different substrates. These results are indications. Due to the diversity of substrates, preliminary tests are recommended. Be aware that the mechanical properties are temperature depending (values on request). Adhesion table Material Aluminium Al Mg3 Steel St 32 Stainless steel Galvanised steel Float glass UP-FRP ABS (Terulan) PVC ( Köradur ES) Polycarbonate Lap...
Open the catalog to page 2
All SIKA INDUSTRY catalogs and technical brochures

Archived catalogs

Compare up to 10 products