Catalogs

>

SIMOTICS XP, SIMOTICS FD and SIMOTICS HV explosionprotected motors
Catalog excerpts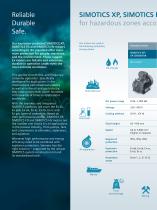 SIMOTICS XP, SIMOTICS I for hazardous zones acco Our explosion-protected SIMOTICS XP, SIMOTICS FD and SIMOTICS HV motors according to IEC standard offer maximum protection for people, machines, and the environment. These rugged Ex motors are failsafe and extremely durable in operation under even the most extreme conditions. This applies to both DOL and frequency converter operation. Specifically developed for applications in the chemical and petrochemical industry as well as in the oil and gas industry, they have proven their worth hundreds of thousands of times in applications worldwide....
Open the catalog to page 2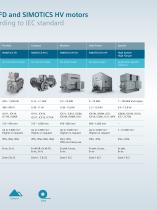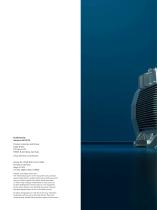 Published by Siemens AG 2019 Process Industries and Drives Large Drives P.O. Box 4743 90025 Nuremberg, Germany www.siemens.com/simotics Article No. PDLD-B10124-01-7600 Printed in Germany Dispo 21503 TH 455-180337 WS 0119PDF Subject to changes and errors. The information given in this document only contains general descriptions and/or performance features which may not always specifically reflect those described, or which may undergo modification in the course of further development of the products. The requested performance features are binding only when they are expressly agreed upon in...
Open the catalog to page 4
All Siemens Electric motors catalogs and technical brochures

Compare up to 10 products