Catalogs

>

SICK

>

SPEETEC
Catalog excerpts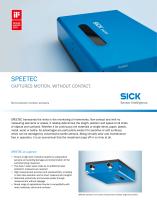 SPEETEC CAPTURES MOTION. WITHOUT CONTACT. SICK Non-contact motion sensors Sensor Intelligence. SPEETEC transcends the limits in the monitoring of movements. Non-contact and with no measuring elements or scales, it reliably determines the length, position and speed of all kinds of objects and surfaces. Whether it be continuous roll materials or single items, paper, plastic, metal, wood or textile. Its advantages are particularly evident for sensitive or soft surfaces, which can be damaged by conventional tactile sensors. Being virtually wear and maintenance free in operation, it is so economical that the investment pays off in no time at all. SPEETEC at a glance • Ensure a high level of product quality by using optical sensors and avoiding damage and contamination to the surfaces being measured • The class 1 laser saves costs as no additional laser protection measures are required • High measurement accuracy and reproducibility, including in start-stop operation and at short measurement lengths • Optimized productivity and process quality through measurement without slippage • Broad range of applications thanks to compatibility with many materials, colors and surfaces SPEETEC stands for non-contact measurement of speed, length and position.
Open the catalog to page 1
8025279/2020-10-19 • RA • Subject to change without notice SPEETEC APPLICATION EXAMPLES AND TECHNICAL DATA SPEETEC MEASURES WHATEVER COMES IN FRONT OF THE LASER SPEETEC can be employed in applications where tactile sensors have not been able to be used in the past due to the characteristics of the material. This opens up a whole new range of possibilities for measuring a wide range of different and also sensitive, soft or smooth materials. SPEETEC also offers significant advantages over existing applications using rotative or measuring wheel encoders if the speed and dynamics of the...
Open the catalog to page 2
All SICK catalogs and technical brochures

Archived catalogs

Compare up to 10 products