Catalogs

>

SICK

>

Maritime Emissions Monitoring
Catalog excerpts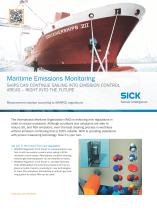 Maritime Emissions Monitoring Ships can continue sailing into emission control areas – right into the future Measurement solution according to MARPOL regulations The International Maritime Organization (IMO) is enforcing new regulations in order to reduce emissions. Although scrubbers and catalyzers are able to reduce SO2 and NOx emissions, even the best cleaning process is worthless without emission monitoring that is 100% reliable. SICK is providing assistance with proven measuring technology. Now it's your turn. Are you in the know? The new regulation •• MARPOL Regulation 14 of Annex VI requires ships to use fuel oil with low sulphur content when sailing in ECAs (emission control areas). Alternatively a sulphur reducing exhaust gas cleaning system can be installed on board. •• MARPOL Regulation 13 of Annex VI and NOx-Technical Code 2008 defines limits for NOx emissions for fuel engines on board. Industry is working on new technologies to lower NOx emissions. Alternatively a catalytic gas cleaning system to reduce NOx can be used.
Open the catalog to page 1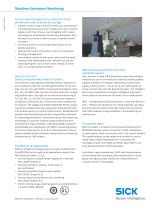 Maritime Emissions Monitoring You can see the opportunity: protection of the environment with potential for savings •• It doesn't have to cost a fortune to show your commitment to protecting the environment. Compare the cost of marine diesel oil with that of heavy fuel oil together with modern technology for cleaning and monitoring waste gases. With the latter, you will see a return on your investment within two years. •• Arrive at any port or sail the high seas without fear of penalty payments. •• Optimize the control of the ship's motors in the interest of energy management. •• Low...
Open the catalog to page 2
All SICK catalogs and technical brochures

Archived catalogs

Compare up to 10 products