Catalogs

>

ZHAOWEI Drive Motor System Fuels the 5G Race Powerfully
Catalog excerpts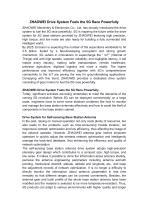 ZHAOWEI Drive System Fuels the 5G Race Powerfully ZHAOWEI Machinery & Electronics Co., Ltd. has proudly introduced the drive system to fuel the 5G race powerfully. 5G is inspiring the future while the drive system for 5G base stations provided by ZHAOWEI featuring high precision, high torque, and low noise are also ready for building a fully connected and intelligent world. By 2025, Ericsson is expecting the number of 5G subscribers worldwide to hit 2.6 billion, fueled by a fast-developing ecosystem and strong growth momentum. 5G ushers in innovations to supercharge the " IoT" (Internet of Things) and with high speeds, superior reliability, and negligible latency, it will impact every industry, making safer transportation, remote healthcare, precision agriculture, digitized logistics and more a reality. The higher performance and improved efficiency together with 5G's comprehensive connectivity to the IoT are paving the way for groundbreaking applications. Complying with this trend, ZHAOWEI provides a dedicated drive system consisting of gear motors to fuel the 5G race powerfully. ZHAOWEI Drive System Fuels the 5G Race Powerfully Today, significant activities are being undertaken to meet the demands of the coming 5G revolution. Before 5G can be deployed commercially on a large scale, engineers have to solve some stubborn problems like how to monitor and manage the base station antennas effectively and how to avoid the theft of components in the base station cabinet. Drive System for Self-sensing Base Station Antenna In the past, relying on manual operation not only costs plenty of resources, but also leads to the problems such as time-consuming trouble location, not responsive network optimization and low efficiency, thus affecting the image of the network operator. However, ZHAOWEI antenna gear motors empower operators to quickly adjust the wireless network optimization and intelligently manage the back-end database, thus enhancing the efficiency and quality of network optimization. The self-sensing base station antenna drive system adopts high-precision planetary gear design which contributes to a compact size, high torque, and low noise. It makes it possible to store the information about antenna identity, perceive the antenna engineering parameters including antenna azimuth pointing, mechanical downtilt, altitude, latitude and longitude, etc., and keep the adjustment records of network optimization. It is no longer a difficulty to directly monitor the information about antenna parameters in real time remotely so that different ranges can be covered conveniently. Besides, the antenna gear and tooth profile of the whole base station antenna have been modified and the material is selected to be more temperature-resistant. Thus, 5G products can adapt to various environments with higher quality and lon
Open the catalog to page 1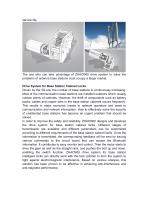 service life. The one who can take advantage of ZHAOWEI drive system to solve the problems of antenna base stations must occupy a larger market. Drive System for Base Station Cabinet Locks Driven by the 5G era, the number of base stations is continuously increasing. Most of the communication base stations are installed outdoors which usually contain plenty of cabinets. However, the theft of components such as battery packs, cables and copper bars in the base station cabinets occurs frequently. This results in major economic losses to network operators and leads to communication and network...
Open the catalog to page 2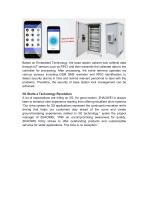 Based on Embedded Technology, the base station cabinet lock collects data through IoT sensors such as RFID, and then transmits the collected data to the controller for processing. After processing, the entire terminal operates via various sensors including GSM SMS reminder and RFID identification to detect security alarms in time and remind relevant personnel to deal with the problems. Therefore, the security of base station lock management can be achieved. 5G Starts a Technology Revolution A lot of expectations are riding on 5G, for good reason. ZHAOWEI is always keen to enhance user...
Open the catalog to page 3
All Shenzhen ZhaoWei Machinery & Electronics Co. catalogs and technical brochures

Compare up to 10 products