Catalogs

>

Smart Door Lock DC Motor 3v 12v 24v Low RPM High Torque Low Noise
Catalog excerpts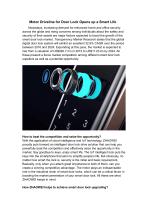 Motor Driveline for Door Lock Opens up a Smart Life Nowadays, increasing demand for enhanced home and office security across the globe and rising concerns among individuals about the safety and security of their assets are major factors expected to boost the growth of the smart door lock market. Transparency Market Research states that the global digital door lock system will exhibit an excellent 32.8% CAGR over the period between 2016 and 2024. Expanding at this pace, the market is expected to rise from a valuation of US$920.7 mn in 2015 to US$11.23 bn by 2024. All these present a fierce market competition among different smart door lock suppliers as well as a potential opportunity. How to beat the competition and seize the opportunity? With the application of cloud intelligence and IoT technology, ZHAOWEI proudly puts forward an intelligent door lock drive solution that can help you powerfully beat the competition and effectively seize the opportunity in the market. Say goodbye to keys, enjoy smart life. The IoT intelligent lock puts the keys into the smartphone that aims to simplify people's life. But obviously, no matter how smart the lock is, security is the initial and basic requirement. Basically, only when you attach great importance to both of them, can you create a winning competitive advantage. The motor plays an indispensable role in the industrial chain of smart door locks, which can be a critical factor in boosting the market penetration of your smart door lock. All these are what ZHAOWEI keeps in mind. How ZHAOWEI helps to achieve smart door lock upgrading?
Open the catalog to page 1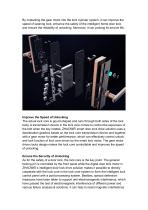 By implanting the gear motor into the lock cylinder system, it can improve the speed of opening lock, enhance the safety of the intelligent home door lock and ensure the reliability of unlocking. Moreover, it can prolong its service life. Improve the Speed of Unlocking The actual lock core is gourd-shaped and runs through both sides of the lock body. A transmission device in the lock core comes to control the expansion of the bolt when the key rotates. ZHAOWEI smart door lock drive solution uses a deceleration gearbox based on the lock core transmission device and together with a gear motor...
Open the catalog to page 2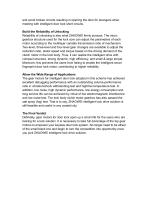 and avoid broken circuits resulting in opening the door for strangers when meeting with intelligent door lock short circuits. Build the Reliability of Unlocking Reliability of unlocking is also what ZHAOWEI firmly pursues. The micro gearbox structure used for the lock core can adjust the parameters of each motor according to the multilayer variable transmission ratio of mechanism. Two-level, three-level and four-level gear changes are available to adjust the reduction ratio, stator speed and torque based on the driving demand of the clutch motor in the lock body. Thus, it can realize the...
Open the catalog to page 3
All Shenzhen ZhaoWei Machinery & Electronics Co. catalogs and technical brochures

Compare up to 10 products