Catalogs

>

ZD402
Catalog excerpts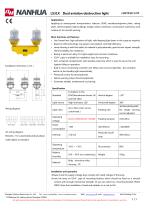 LS31X Dual aviation obstruction light LS31X-E1-V10 Wiring diagram AC wiring diagram Remarks:For customized product,please make object as standard. Applications Applying to tower(power transportation, telecom, GSM), smokestacks(power plant, coking pla nt, chemical plant), high buildings, bridge, harbor machinery, construction machinery, wind turbine etc for aircraft warning. Main functions and features • Use Fresnel lens, high utilization of light, valid keeping light beam in the scope as required. • Based on LED technology, low power consumption, and high efficiency. • Lamp housing is with bird spike. Its material is polycarbonate, good at anti-impact strength, thermal stability, fire resistance.. • Basing is aluminum alloy. It is light weight and corrosion resistance. • G3/4"pipe is available for installation, easy for mounting. • Self- contained compartment, with stainless steel wire which is used to secure the unit against falling in operation. • Built-in micro monitoring controller unit. When and if service light fails , the controller switch on the standby light automatically. • Photocell control function(optional). • Failure warning output function(optional). • Extremely reliable, maintenance cost saving. Installation and operation •Please check the supply voltage does comply with rated voltage of the lamp. •Screw the lamp on G3/4' pipe of mounting bracket, which should be fixed on a smooth surface with enough mechanical strength. Or you can select our mounting bracket: PJ024, PJ005. Note that installation is fixed and reliable, so as not to fall. Shanghai Nanhua Electronics Co., Ltd Tel :+86 02i-39i26868Fax:+86 02i-39i26868ext 808/818 Web : E-mail : Add: Building 9, No. 1755Wenbei Rd, Jiading district Shanghai 201802 1 / 1 All rights reserved by Nanhua,without the written authorization of the Nanhua, any part thereof shall not be reproduced or transmitted in any form.
Open the catalog to page 1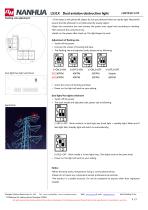 ensurethatthephotocellisnotobstructedbynearbyobject. •Open the connection box and connect the power wire, signal wire according to marking. Thenremounttheconnectionbox. •Switchonthepoweraftercheckup.Thelightbeginstowork. Adjustment of flashing rate • Switchoffthepower. • Unscrewthescrewsofhousingandbase. • Theflashingrateandadjustedcode,pleaseseeasfollowing: Notice •Whenthelampworks,temperaturerisingisnormalphenomenon. •Pleasedonotopenanycomponentsexceptprofessionalserviceman. •The product is a sealed structure. Do not be tampered by anyone other than registered installer.
Open the catalog to page 2
All Shanghai Nanhua Electronics Company catalogs and technical brochures

Compare up to 10 products