Catalogs

>

TW101
Catalog excerpts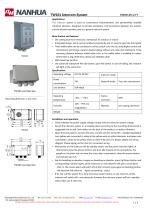 A pplications This intercom system is used on construction hoists/elevators and permanently installed in dustrial elevators. Designed to provide emergency communications between the workers and the elevator operator, and as a general intercom system. Main funtion and features: • Die casting aluminum enclosure, waterproof, for outdoor or indoor. • Integrated design, and it can be installed conveniently and no need to open the front panel • Three walkie talkie can be connected in series using 4 core wire; by using digital control and transmission technology, support duplex talking without any noise and inteference. If the mounting distance between walkie talkie is far or the walkie talkie is installed in a place where there is big inteference, please use shielded cable. • With hand free function • Use advanced waterproof film dial button, push the botton in case of talking, the indicator will light at the same time. Specification: Installation and operation: • Check whether the power supply voltage comply with the intercom system voltage. • Secure the intercom system on a suitable places according to the mounting dimension(it is suggested that to add 2mm rubber on the back of the product, to reduce vibration.) • Open the front panel to connect the wire, connect red wire to DC24V+, shielded layer(black one) yellow wire connected in series to the yellow wires on other intercoms, and green wire connected in series to the yellow wires on other intercoms, for details, please see wiring diagram. Please equip junction box for convenient wiring. • After power on, the intercom will be standby status, and the power indicator lights, at thismoment, press the answer button, and then talk towards to the microphone, the people on the other side can hear the voice; after conversation, close the answer button and indicator go outs. • Ask for boarding on elevator or agree on boarding on elevator, press Up/Down button, and corresponding indicator lights, all the intercoms in one networks will give a voice alarm, after 7s, the invoice alarm will switch off, at this moment, press agree on boarding button, the intercom will switch to "agree on boarding" status. • If do not use this system for a long time press power button on any intercom, all the intercom will switch off in one networks, however, the intercom system will be in standby status when use it next time. Shanghai Nanhua Electronics Co., Ltd Tel :86 021-39126868 Fax :86 02i-39i26868ext 808/818 Web www.nanhua.com E-mail saiesenanhua.com Add: Building 9, No. 1755Wenbei Rd, Jiading district Shanghai 201802 All rights reserved by Nanhua, without the written authorization of the Nanhua, any part thereof shall not be reproduced or transmitted in any form.
Open the catalog to page 1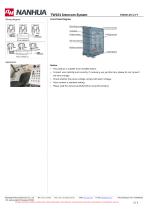 Wiring diagram Application Shanghai Nanhua Electronics Co., Ltd Rd, Jiading district Shanghai 201802 Front Panle Diagram Notice • This product is suitable to be installed indoor. • Connect wire carefully and correctly, if necessary, use junction box, please do not connect the wire wrongly. • Check whether the power voltage comply with alarm voltage. • Voice content is standard setting. • Please read the manual carefully before using this product. ...
Open the catalog to page 2
All Shanghai Nanhua Electronics Company catalogs and technical brochures

Compare up to 10 products