Catalogs

>

LT101
Catalog excerpts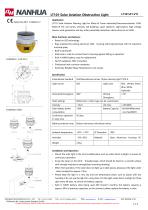 LT101 Solar Aviation Obstruction Light LT101-E1-V11 Application LT101 Solar Aviation Warning Light for Masts & Tower obstacles(Telecommunication, GSM, Radio & TV), tall cranes, chimney, tall buildings, sport stadiums, Light pylons, high voltage towers, wind generation and any other potentially hazardous obstructions to air traffic. Main functions and features • Based on LED technology. • Base material-Die casting aluminum LM6, housing with polycarbonate with UV resistance and bird spike. • Built-in photocell • Steel wire is used to connect base to housing against falling in operation. • Built in NiMH battery, ease for replacement. • No RF-radiations, EMC Compliant • Shockproof and corrosion resistance • Extremely Reliable-Major Maintenance cost saving. Installation and Operation • Mount the solar light in the most suitable place such as under direct sunlight, to ensure its continuous operation. • Screw the lamp on the G3/4" threaded pipe, which should be fixed on a smooth surface with enough mechanical strength(see mounting drawing). • When first operation, if the solar does not light up in dark places, please put the light under direct sunlight for approx. 12hrs. • Please keep the light in a very dry and low temperature place, such as places with low humidity if do not use the light for a long time. Put the light under direct sunlight for three days every 40 days, to ensure the battery capacity. • Built in NiMH battery, after being used 450 times(15 months), the battery capacity is approx. 80% of previous capacities, at this moment, please replace the battery in time. Shanghai Nanhua Electronics Co., Ltd Tel:+86 021-39126868 Fax:+86 02i-39i26868ext 808/818 Web: www.nanhua.com E-mail: saies@nanhua.com Add: Building 9, No. 1755Wenbei Rd, Jiading district Shanghai 201802 All rights reserved by Nanhua, without the written authorization of the Nanhua, any part thereof shall not be reproduced or transmitted in any form.
Open the catalog to page 1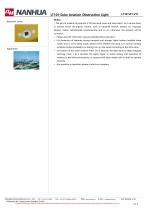 LT101 Solar Aviation Obstruction Light LT101-E1-V11 Basement switch Notice: • The part of material of products is PC( like lamp cover and lamp shell ), so it cannot direct or indirect touch the organic solvent, such as industrial alcohol, banana oil, isopropyl alcohol, carbon tetrachloride, cyclohexanone and so on, otherwise, the product will be corroision. • Please read the instruction manual carefully before operation. • For protection of batteries during transport and storage, lights bottom installed sleep switch, and is set to sleep mode, please check whether the lamp is in normal...
Open the catalog to page 2
All Shanghai Nanhua Electronics Company catalogs and technical brochures

Compare up to 10 products