Catalogs

>

LS710
Catalog excerpts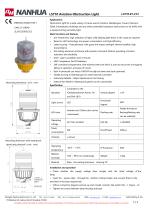 LS710 Aviation Obstruction Light Applications Obstruction light for a wide variety of cranes used in Harbors, Metallurgies, Towers (Telecom, GSM), Smokestacks, Buildings and any other potentially hazardous obstructions to air traffic with a steady burning red safety light. Mai n functions and features • Use Fresnel lens, high utilization of light, valid keeping light beam in the scope as required. • Based on LED technology, low power consumption, and high efficiency. • Lamp housing - Polycarbonate, with good anti-impact strength, thermal stability, high transmittance. • Die casting aluminum enclosure with powder-coat paint finishes, providing corrosion resistance and durability. • G3/4" pipe is available, ease of mount. • EMC Compliance, No RF Radiation. • Self-contained compartment, with stainless steel wire which is used to secure the unit against falling in operation, and ease of mount. • Built-in photocell can switch ON/OFF the light at dawn and dusk (optional). • Steady burning or flashing type (no need external controller). • Extremely Reliable - Major Maintenance Cost Saving. • External two M20X1.5 Waterproof gland( can be customized). Specification LS710-E1-V14 Mounting dimension with waterproof gland and photocell (unit: mm) Installation and operation • Check whether the supply voltage does comply with the rated voltage of the lamp. • Insert the power cable through the bottom of lamp holder, and connect them to the terminals in the base respectively. • F ollow connection diagram and set up work model. (remark: dial switch ON---1, figure---0) • Tighten the screws between lamp housing and base. Shanghai Nanhua Electronics Co., Ltd Tel: +86 021-39126868 Fax: +86 021-39126868ext 808/818 Web : E-mail: Add: Building 9, No. 1755Wenbei Rd, Jiading district Shanghai 201802 1 / 2 All rights reserved by Nanhua, without the written authorization of the Nanhua, any part thereof shall not be reproduced or transmitted in any form.
Open the catalog to page 1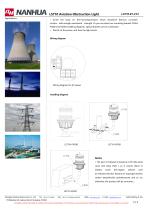 LS710 Aviation Obstruction Light Applications the mounting bracket, which should be surface with enough mechanical strength. Or you can select our mounting bracket: PJ024, PJ028 and PJ030 (installing diagram), special bracket can be customized. • Switch on the power, and then the light works. Wiring diagram Wiring diagram for AC power Installing diagram Notice • The part of material of products is PC( like lamp cover and lamp shell ), so it cannot direct or indirect as industrial alcohol, banana oil, isopropyl alcohol, carbon tetrachloride, cyclohexanone and so on, otherwise, the product...
Open the catalog to page 2
All Shanghai Nanhua Electronics Company catalogs and technical brochures

Compare up to 10 products