Catalogs

>

AL600U
Catalog excerpts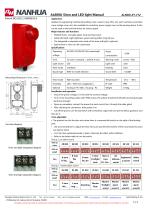 AL600U Siren and LED light Manual_AL600U-E1-V12 Application Applied to engineering machinery(travelling crane, crawler crane, RTG, etc), port machinery (overhead crane, bridge crane, etc); also avialable for workshop, power supply room as the warning device. It also can be used as the terminal device for various signal. Major features and functions • Multiple tones, manually adjust, loud warning sound. • Adopt LED bulb, high brightness, good warning effect, long life use. • The integrated or separate work mode of the siren and light is optional. • Special tone or voice can be customized. Specifications Operating voltage Terminal diagram Siren and light integrated diagram Siren and light separated diagram Insatllation and operation • Ensure the power volatge is in line with the nominal voltage • Fix it on the mounting surface with 4*M6 screws, the surface should level off and has strong enough mechnical strength • Open up nameplate, connect the power line (and control line ) through the cable gland • After checking the connection, then power it on • Cut off the power, turn the dial switch with screwdriver, adjust the tone per the below guidance, and then try it. Tone adjustable • The product has this function only when there is a reserved dial switch on the right of the binding po st. • Use word screwdriver to adjust the tone, No touch any element and line of the circuit board to avoid any electric shock • Turn the tone upside/downside in place, otherwise the effect will be affected. • Refer to the below table to turn the switch Group 1, car alarm sound Dial-up value Group 2 : marine alarm sound S hanghai Nanhua Electronics Co., Ltd Tel:+86 021-39126868 Fax:+86 021-39126868ext 808/818 Web : E-mail : Add: Building 9, No. 1755Wenbei Rd, Jiading district Shanghai 201802 All rights reserved by Nanhua, without the written authorization of the Nanhua, any part thereof shall not be reproduced or transmitted in any form.
Open the catalog to page 1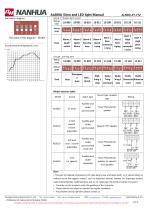 The value in this diagram : 00 001 Group 3 : Burglar alarm sound Model selection table: Alarm type Sound type /speaker type Audible and visible Tone/ Piezoelectric synchronized speaker A/B dual tone , volume adjustable Audible and visible synchronized , Dual tone Tone/ Piezoelectric speaker Tone/ Piezoelectric speaker (or speech/ YH3 speaker) Note: • The part of material of products is PC( like lamp cover and lamp shell ), so it cannot direct or indirect touch the organic solvent, such as industrial alcohol, banana oil, isopropyl alcohol, carbon tetrachloride, cyclohexanone and so on,...
Open the catalog to page 2
All Shanghai Nanhua Electronics Company catalogs and technical brochures

Compare up to 10 products