Catalogs

>

Channelmaster
Catalog excerpts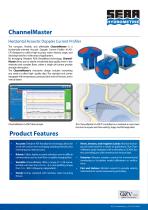 ChannelMaster Horizontal Acoustic Doppler Current Profiler The compact, flexible, and affordable ChannelMaster is a horizontally-oriented Acoustic Doppler Current Profiler (H-ADCP) designed to collect high-accuracy water velocity, stage, and discharge data for a wide array of applications. By leveraging Teledyne RDI's BroadBand technology, ChannelMaster allows you to obtain unmatched data quality, even in low velocities and complex flows, where a single cell cannot provide enough information. The ChannelMaster's innovative design includes everything you need to collect high- quality data. The standard unit comes equipped with temperature, pressure, pitch and roll sensors, and a vertical beam. ChannelMaster H-ADCP data sample. The ChannelMaster H-ADCP is installed on a riverbank or near-shore structure to acquire real-time velocity, stage, and discharge data. Product Features • Accurate: Teledyne RDI Broadband technology allows for small cells and/or short averaging sampling intervals, thus increasing your data accuracy. Robust: Collect highly accurate velocities even in difficult environments such as slow flow or rapidly changing flow. Rivers, Streams, and Irrigation Canals: Monitor discharge and water level for a variety of applications. The ChannelMaster easily integrates with a telemetry or SCADA system, providing you with remote access to your data. Versatile: ChannelMaster offers a range of 1-128 userselectable cell sizes from 25 cm - 8 m and profiling ranges from 1 m - 300 m (frequency dependent). Estuaries: Measure complex currents for environmental monitoring or circulation model calibrations or verifications. Port and Harbors: Monitor currents to provide velocity information for vessel maneuvering and safety. Sturdy: Comes standard with stainless steel mounting fixture.
Open the catalog to page 1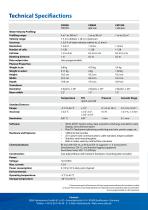 Technical Specifiactions CM300 300 kHz Water Velocity Profiling: Profiling range: Velocity range: Accuracy: Resolution: Number of cells: Cell size: Blanking distance: Data output rate: Physical Properties: Weight in air: Weight in water: Height: Width: Depth: Transducer: Geometry: Beam width: 4 m1) to 300 m2) 2 m to 90 m2) ± 5 m/s default, ± 20 m/s maximum ± 0,5 % of water velocity relative to ±2 mm/s 1 mm/s 1 mm/s 1-128 1-128 1 m to 8 m 0.5 m to 4 m 1m 0.5 m User-programmable 6.8 kg 3.17 kg 18.3 cm 32.5 cm 19.8 cm Änderungen im Sinne des technischen Fortschritts vorbehalten. Tilt (pitch...
Open the catalog to page 2
All Seba Hydrometrie GmbH & Co. KG catalogs and technical brochures

Compare up to 10 products