Catalogs

>

AKV
Catalog excerpts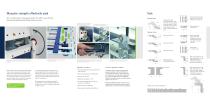 Muscular strenght effectively used AKV - A simple name for a top-quality machine: The "AKV" is one of the most powerful hand-operated swivel folding machines ever built. The proling and attening wheels are used to give the piece the required shape. 68 Adjustment of the folding beam via knurled nut and scale depends on the sheet to be worked and the desired folding radius. Clamping beam tools sharp-nose blade 20°, sharp foot width 35 mm or optional sharp-nose blade 45°, sharp, foot width 27 mm, each with 8 mm clearance for hem, screw-connected to clamping beam Standard tools Folding beam tools Folding blades 10 and 25 mm, from AKV 3000: 15 and 25 mm Bottom beam tools one-piece rail Optional extras Bottom beam blade 66.5 x 24 mm with milled slots (in case of a subsequent back gauge order, blade is to order separate) The cutting device is used for safe and easy cutting of ST37 sheets with a material strength of up to 0.8 mm. With the AKV machine, Hans Schröder Maschinenbau relys on a robust, generously dimensioned all-steel design, which not only guarantees stability and longevity by their rigidity but also adds to high precision and a great scope. Thanks to its maintenance and wear-free guides as well as its machine components, the AKV is virtually indestructible in daily use. NEW: 5 years guarantee (except wear parts) The clamping and folding beam weights are telescopically balanced over the whole angle range. The clamping beam works on the eccentric principle, which permits safe clamping and a quick change of position. A quick tool clamping system allows a fast change of tool segments. Mechanical precision and folding technology offer possibilities for the most difcult demands. The standard tools can help to full highly variable working options as well. Function upgrade and support • Variable clamping beam range up to 90 mm for goat's foot tools As optional extras a manual back gauge (nger gauge) is available (10-500 mm,10-750 mm or 10-1,000 mm) and with it a sheet support table with movable and removable slags. A back gauge with a min. stop depth of 6 mm is available on request. Other options include a pneumatic bending support as well as a foot. • Quick and easy adjustment of folding beam • Extremely low tool costs • Adjustable angle gauge 0 - 180° • The inclined clamping beam offers 50 mm clearance on the backside • Center bearing for bottom beam • New, ergonomic working height of 930 mm Proling and attening wheels as well as the cutting device that includes linear guides for material thickness ST37 up to 0.8 mm are also very popular. Goat's foot blade 90 mm, 30°, sharp, segmented incl. corner parts or one-piece, without corner parts, with clamping rail, 1,100 N/mm², clearance 15 mm, foot width 35 mm Example: Goat's foot tool segmentation 30 50 55 Goat's foot blade 50 mm, 30°, sharp, segmented incl. corner parts and clamping rail, 1,100 N/mm2, clearance 20 mm, foot width 40 mm The pneumatic bending support is controlled by a nger lever on the folding beam handle. A pneumatic cylinder assists the operator in bending the piece. You only need compressed air supply. Back gauge and sheet support table with movable and removable supporting rail. Usage of sharp-nose or segmented tools up to 90 mm by manual height adjustment of the clamping beam. The bending angle will be adjusted on the angle gauge.
Open the catalog to page 1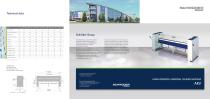 Technical data Machine height Weight standard machine Clamping beam stroke Folding beam adjustment Schröder Group The Schröder Group consists of Hans Schröder Maschinenbau GmbH, which is located in Wessobrunn, Germany, and SCHRÖDER-FASTI Technologie GmbH, which is located in Wermelskirchen, Germany. Founded in 1949, Hans Schröder Maschinenbau GmbH unies traditional and modern approaches in machine building: Successfully managed as a quality and customer-oriented, family-owned company, Hans Schröder Maschinenbau is specialized in the development of modern machine concepts for bending and...
Open the catalog to page 2
All Schröder Group catalogs and technical brochures
Compare up to 10 products