Catalogs

>

CL4NX
Catalog excerpts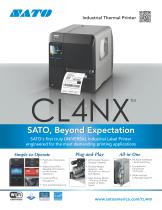 Industrial Thermal Printer SATO, Beyond Expectation SATO's first truly UNIVERSAL Industrial Label Printer engineered for the most demanding printing applications • Full Color Interactive LCD • LTDS (Label Tension Damper System) • Multiple Interfaces - Auto Switching • Videos that Offer Valuable Information on the Printer Operation • Flexible Media Support - Use Wound In or Wound Out Media • Competitive Emulations On-board • Intuitive Menu Navigation • High Energy Mode - Prints on a Wide Variety of Stock Types • Tool-less Maintenance CORPORATE 10350-A Nations Ford Rd Charlotte, NC 28273 Phone: (704) 644-1650 Fax: (704) 644-1662 satosales@satoamerica.com • Multi-national Language Support LABEL MANUFACTURING, SERVICE & SALES UNITED STATES CANADA CENTRAL AMERICA CARIBBEAN ©2014 SATO America, Inc. All rights Reserved. Rev F • Any unauthorized reproduction of this content, in part or whole, is strictly prohibited • SATO is a registered trademark of SATO Corporation and its subsidiaries in Japan, the U.S. and other countries. All other trademarks are the property of their respective owners.
Open the catalog to page 1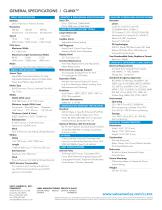 GENERAL SPECIFICATIONS / CL4NXTM PRINT SPECIFICATIONS MEMORY & PROCESSING SPECIFICATIONS Dual CPU CPU1: 2GB Flash, 256MB RAM CPU2: 4MB Flash, 64 MB RAM USER FRIENDLY SUPPORT TOOLS Method Direct Thermal or Thermal Transfer Resolution 203 dpi 305 dpi 609 dpi (8 dots/mm) (12 dots/mm) (24 dots/mm) Speed 10 ips 8 ips 6 ips (254.0 mm/sec) (203.2 mm/sec) (152.4 mm/sec) Print Area Maximum Width 4.1" (104.0 mm) Maximum Length (Continuous Mode) 98.43" 59.06" 15.75" (2500.0 mm) (1500.0 mm) (400.0 mm) Mode Continuous, Tear-off, Cutter, Dispense, Linerless MEDIA SPECIFICATIONS Sensor Type Adjustable...
Open the catalog to page 2
All SATO America catalogs and technical brochures

Archived catalogs

Compare up to 10 products