Catalogs

>

SENSE A STANDOUT SPECTROMETER WITH AN INDUSTRY-LEADING PERFORMANCE AND SENSITIVITY
Catalog excerpts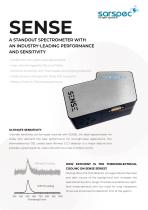 A STANDOUT SPECTROMETER WITH AN INDUSTRY-LEADING PERFORMANCE AND SENSITIVITY Perfect for Low-Light-Level Applications; User-Interchangeable Slits and Filters; Extreme Sensitivity with Thermoelectrical Cooling Detector; Wide Dynamic Range with 18-bit A/D Converter; Battery Pack for Field Measurements; ULTIMATE SENSITIVITY Ultimate sensitivity can be easily reached with SENSE, the ideal spectrometer for those who demand the best performance for low-light-level applications. The thermoelectrical (TE) cooled back-thinned CCD detector is a major feature that provides a great signal-to-noise ratio with low noise and dark counts. HOW EFFICIENT IS THE THERMOELECTRICAL COOLING ON SENSE SERIES? Cooling down the CCD detector strongly reduces the noise and dark counts of the background and increases the operational dynamic range. This feature enables low-lightlevel measurements with low noise for long integration times and enhances the detection limit of the system.
Open the catalog to page 1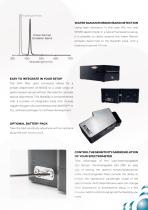 WATER RAMAN EMISSION BAND DETECTION Using laser excitation, in this case 405 nm, and SENSE spectrometer in a typical fluorescence setup, it is possible to clearly observe the water Raman emission band next to the Rayleigh peak, with a maximum around 471 nm. EASY TO INTEGRATE IN YOUR SETUP The SMA fiber optic connector allows for a simple attachment of SENSE to a wide range of spectroscopic setups without the need for complex optical alignments. This flexibility is complemented with a number of integration tools that include triggers (trigger in/out and delays) and LabVIEW™ or DLL software...
Open the catalog to page 2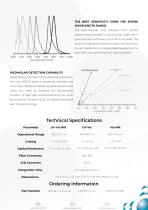 THE BEST SENSITIVITY OVER THE ENTIRE WAVELENGTH RANGE The back-thinned CCD detector from SENSE spectrometer provides a wide spectral range with a great quantum efficiency up to 90 % (at peak). The optimum operational spectral range and resolution for each application is customizable by selecting the ideal diffraction granting from those available. PICOMOLAR DETECTION CAPABILITY Despite being a compact and modular spectrometer, this new SENSE series is extremely sensitive and more than capable of delivering great performance when you need to measure the fluorescence emission of dyes with...
Open the catalog to page 3
All Sarspec catalogs and technical brochures

Compare up to 10 products