Catalogs

>

LS-DWHP
Catalog excerpts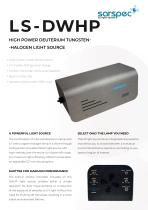 L S - DWHP HIGH POWER DEUTERIUM TUNGSTEN-HALOGEN LIGHT SOURCE High Power, Great Performance UV-Visible-NIR Spectral Range Shutter Controller and Lamp Selector Built-in Filter Slot Remote Control with SPEC Hub A POWERFUL LIGHT SOURCE SELECT ONLY THE LAMP YOU NEED The combination of a 30-watt deuterium lamp with DWHP light source has an integrated lamp selector a 7-watt tungsten-halogen lamp in a shine-through that allows you to choose between a individual configuration provides DWHP light source with and combined lamp operation, according to your high intensity over the entire UV-Visible-NIR range. spectral region of interest. For maximum light efficiency, DWHP incorporates an adjustable 12.7 mm focusing lens. SHUTTER FOR MAXIMUM PERFORMANCE The built-in shutter controller included on the DWHP light source enables either a simple operation for dark measurements or a reduction of the exposure of samples to UV light without the need for shutting off the lamps, resulting in a more stable and extended lifetime.
Open the catalog to page 1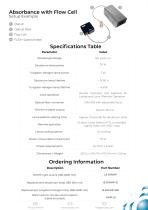 Absorbance with Flow Cell Optical Fiber Flow Cell FLEX+ Spectrometer Specifications Table Parameter Wavelength Range Deuterium lamp power Tungsten-Halogen lamp power Deuterium lamp lifetime Tungsten-Halogen lamp lifetime Local operation Shutter Controller and Selectors for Lamps and Local / Remote Operation Optical fiber connector SMA 905 with adjustable focus Time for a stable output Lamp selector waiting time Remote operation Approx. 30 min. Approx. 10 seconds for deuterium lamp Shutter, Lamp Selector (TTL compatible signal) (best with SPEC Hub) Lamp cooling system Power consumption...
Open the catalog to page 2
All Sarspec catalogs and technical brochures

Compare up to 10 products