Catalogs

>

FLEX+ WHEN SPEED AND SENSITIVITY ARE COMBINED IN A SMALL OPTICAL BENCH
Catalog excerpts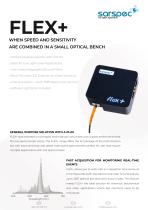 WHEN SPEED AND SENSITIVITY ARE COMBINED IN A SMALL OPTICAL BENCH General purpose solution with a PLUS Ideal for Low Light-Level Applications User-Interchangeable Slits and Filters Back-Thinned CCD Detector for Great Sensitivity Fast Acquisition – Up to 2587 Spectra per Second Software LightScan Included GENERAL PURPOSE SOLUTION WITH A PLUS FLEX+ spectrometer is a compact and modular instrument with a great performance that fits any spectroscopic setup. The FLEX+ range offers the full package of the FLEX solution but with extra sensitivity and speed making this spectrometer perfect for user that require multiple applications with one spectrometer. FAST ACQUISITION FOR MONITORING REAL-TIME EVENTS FLEX+ allows you to work with an integration time as low as 2 microseconds (with the electronic shutter on) and acquire up to 2587 spectra per second (in burst mode). This feature makes FLEX+ the ideal solution for chemical, biochemical and other applications where fast reactions need to be monitored.
Open the catalog to page 1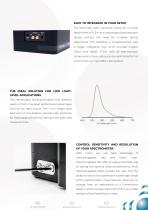 EASY TO INTEGRATE IN YOUR SETUP The SMA fiber optic connector allows for a simple attachment of FLEX+ to a wide range of spectroscopic setups without the need for complex optical alignments. This flexibility is complemented with a trigger integration tool, which includes triggers in/out and delays. FLEX+ and all spectroscopic components of your setup can be centralized for full control with our new SPEC Hub solution. THE IDEAL SOLUTION FOR LOW LIGHTLEVEL APPLICATIONS The Hamamatsu back-illuminated CCD detector used on FLEX+ has great performance advantages such as low dark counts. The 1 mm...
Open the catalog to page 2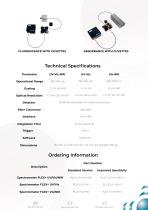 FLUORESCENCE WITH CUVETTES ABSORBANCE WITH CUVETTES Technical Specifications Parameter Operational Range Optical Resolution 2048-element Back Thinned Hamamatsu Fiber Connector Integration Time Ordering Information Part Number Standard Version Improved Sensitivity Spectrometer FLEX+ UV/Vis/NIR Spectrometer FLEX+ UV/Vis Spectrometer FLEX+ Vis/NIR
Open the catalog to page 3
All Sarspec catalogs and technical brochures

Compare up to 10 products