Catalogs

>

FLEX A POWERFUL AND FLEXIBLE SPECTROMETER THAT FITS IN THE PALM OF YOUR HAND
Catalog excerpts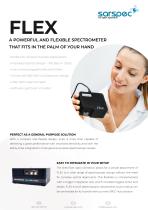 A POWERFUL AND FLEXIBLE SPECTROMETER THAT FITS IN THE PALM OF YOUR HAND Perfect for General Purpose Applications Improved Optical Design – The Best in Class! User-Interchangeable Slits and Filters UV-Vis-NIR (185-1100 nm) Detection Range Fiber Optic Spectrometer Software LightScan Included PERFECT AS A GENERAL-PURPOSE SOLUTION With a compact and flexible design, FLEX is more than capable of delivering a great performance with improved sensitivity and with the ability to be integrated in most general-purpose spectroscopic setups. EASY TO INTEGRATE IN YOUR SETUP The SMA fiber optic connector allows for a simple attachment of FLEX to a wide range of spectroscopic setups without the need for complex optical alignments. This flexibility is complemented with a trigger integration tool, which includes triggers in/out and delays. FLEX and all spectroscopic components of your setup can be centralized for full control with our new SPEC Hub solution.
Open the catalog to page 1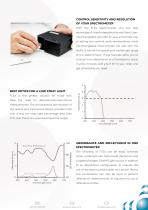 CONTROL SENSITIVITY AND RESOLUTION OF YOUR SPECTROMETER With the FLEX spectrometer, you can take advantage of interchangeable slits and filters. Userinterchangeable slits offer an easy and simple way of setting the optimal resolution/sensitivity while interchangeable filters provide the user with the ability to narrow the operational wavelength range of the spectrometer. These features allow you to change from absorbance to a fluorescence setup in a few minutes. Add a SLIT KIT to your order and get all felxibility you need. BEST OPTICS FOR A LOW STRAY LIGHT FLEX is the perfect solution for...
Open the catalog to page 2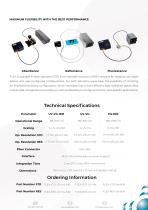 MAXIMUM FLEXIBILITY WITH THE BEST PERFORMANCE FLEX is available in both standard (STD) and improved-resolution (RES+) versions for ready-to-use (table below) and user-configured configurations. For both solutions, users have the possibility of choosing an improved sensitivity configuration, which translates into a more efficient light collection optics. Also, customized configurations provides you with the flexibility to configure FLEX for more specific applications. Technical Specifications Parameter Operational Range Fiber Connector Interface SMA-905 Mini-UBS (works also as power supply))...
Open the catalog to page 3
All Sarspec catalogs and technical brochures

Compare up to 10 products