Catalogs

>

SALICRU

>

SPS NET
Catalog excerpts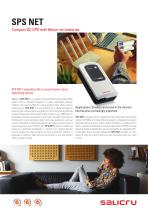 Compact DC UPS with lithium-ion batteries SPS NET: Long battery life in case of power cuts in networking devices Salicru's SPS NET is a compact Uninterruptible Power Supply (UPS) system that is specially designed to supply automated systems, modems and routers (+ONT) for a long period of time when a power failure occurs. SPS NET not only protects your equipment against power surges, but also gives you peace of mind in knowing that during a power outage you have enough energy stored in your 7800 mAh LiIon battery to keep the devices in your home network connected to the Internet, so you can keep in touch with your loved ones, continue a video conference or end the episode of your favourite series without consuming data on your 4G/5G tariff. SPS NET is easy to install and requires no technical knowledge to connect it to network devices such as routers, IP cameras, alarms or home automation systems. It generates no noise or heat and can be installed in any environment within a home or office. Applications: Staying connected to the Internet has become increasingly important SPS NET recharges when connected to the mains and is the optimal solution for SMEs and home offices because it is designed to prevent downtime during a power failure. Video conferences, sending critical emails, staying connected to a virtual private network (VPN) or simply enjoying digital entertainment are all susceptible to unexpected WiFi disruption due to a power outage and SPS NET provides you with peace of mind by ensuring that you stay connected when you need it most.
Open the catalog to page 1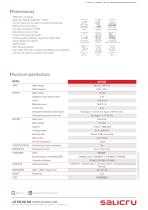 REF. JJ078A01 CODE 401AB001252 ED. JANUARY 2021 - UNINTERRUPTIBLE POWER SUPPLY SYSTEMS (UPS) Performances ∙ 7800mAh Li-Ion battery. ∙ Wide input voltage range (90 V ÷ 265 V). ∙ 12 V DC output with no need for an external transformer. ∙ Battery life of up to 4 hours. ∙ Low self-consumption (<0.8 W). ∙ Generates zero noise or heat. ∙ Compact and lightweight design. ∙ Protection against lightning, surges and voltage peaks. ∙ LED-bar battery life indicator. ∙ ON/OFF button. ∙ Wall mounting possible. ∙ Dual output cable with connectors and adapters (x2) compatible with the vast majority of...
Open the catalog to page 2
All SALICRU catalogs and technical brochures

Archived catalogs

Compare up to 10 products