Catalogs

>

SALICRU

>

SOFTWARE
Catalog excerpts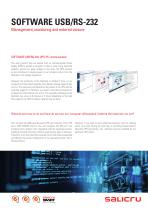 SOFTWARE USB/RS-232 Management, monitoring and ordered closure SOFTWARE USB/RS-232: UPS-PC communication The main function that we require from an Uninterruptible Power Supply (UPS) to protect a computer, is that in case of any electrical problem, power cut, peak voltage or line drop, the UPS protects us and continues to supply power to our computer either from the batteries or by voltage regulation. However, the autonomy of the batteries is limited in time, so our computer will shut down abruptly when battery storage capacity has run out. This autonomy will depend on the power of our UPS and the load that supports it, therefore, we need to shut down/suspend our computer correctly before this occurs. The complete discharge of the batteries can occur at 8 minutes or 2 hours depending on the load that supports the UPS or battery capacity that we have. What do we have to do and how do we turn our computer off/suspend it before the batteries run out? First, connect the USB cable between UPS and Computer. If our UPS has a USB UPSHID function, this will recognise the UPS as if our computer had a battery fully integrated with the operating system, enabling its power functions without requiring any type of software. Therefore, if we only need the computer to be shut down/suspended according to the power configuration of our operating system, this is the best choice. However, if we want to have additional features, such as sending alerts via e-mail, having an event log, or recording measurements, adjusting UPS parameters, etc., software must be installed for our particular UPS model.
Open the catalog to page 1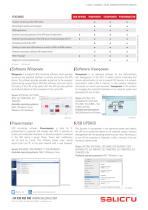 REF. JJ016B01 CODE 401AB000984 ED. MAY 2019 - UNINTERRUPTIBLE POWER SUPPLY SYSTEMS (UPS) Graphic monitoring of the UPS status Recording of events and measures Ordered closure/suspension of the UPS due to battery time Ordered closure/suspension of the UPS due to remaining battery level % Sending of alerts and notifications by e-mail (or SMS via GSM modem) Network computers switched off (master/slave) Support for virtual environments VIEWPOWER POWERMASTER Information subject to change without notice. Software Winpower Software Viewpower Winpower is a powerful UPS monitoring software, which...
Open the catalog to page 2
All SALICRU catalogs and technical brochures

Archived catalogs

Compare up to 10 products