Catalogs

>

SALICRU

>

SLC XPERT
Catalog excerpts
Uninterruptible power supplies 80 to 400 kVA SLC X-PERT: High critical power facilities protected by high functionalities Applications: Guaranteed energy for all Salicru's SLC X-PERT series consists of three-phase UPSs that environments combine very low total cost of ownership (TCO) with very high efficiency and compact design, providing high-quality uninterruptible power for all critical applications. The technology incorporated offers one of the highest efficiencies on the market in VFI mode and 100% of expected battery life. The SLC X-PERT series maximises the use of the surface occupied thanks to its high power density design. Models from 200 kVA have complete front access, precluding the need for side or rear space, making them easy to maintain and installable side by side, back to back or against a wall. The common battery option further enhances the ability of the SLC X-PERT series to deliver low footprint solutions, freeing space for other equipment. Data centres: Ensures the functionality of environments and prevents losses caused by net failures. IT-Networks: Prevent costs due to service interruptions or loss of information. Financial services: Maintains online operability of financial transactions and operations. Industrial processes: Protects productivity in electrically complicated environments. Telecommunications: Prevents supply failures that can suspend communication between subscribers. Infrastructures: Safeguards the instruments/equipment and ensures the proper management of the systems.
Open the catalog to page 1
Range CODE Batteries located in cabinets. Nomenclature, dimensions and weights for devices with input voltage 3 x 400 V, output voltage 3 x 400 V and standard backup. Batteries located in banks. Nomenclature, dimensions and weights for devices with input voltage 3 x 400 V, output voltage 3 x 400 V and standard backup.
Open the catalog to page 3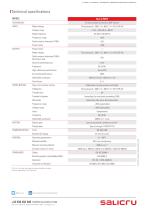 REF JJ036B01 CODE 401AB001070 ED DECEMBER 2019 - UNINTERRUPTIBLE POWER SUPPLY SYSTEMS (UPS) Rated voltage Voltage range Rated frequency Frequency range Total harmonic distortion (THDi) Power factor Power factor Rated voltage Total harmonic distortion (THDv) Non~ near load Synchronised frequency Frequency High-efficiency performance Eco-mode performance Admissible overloads Crest factor STATIC BYPASS Type and activation criteria Voltage (V) Transfer time (ms) Transfer to bypass Retransfer Frequency range Voltage range Input Frequency Admissible overloads Solid state, microprocessor...
Open the catalog to page 4
All SALICRU catalogs and technical brochures

Archived catalogs

Compare up to 10 products