Catalogs

>

SALICRU

>

OPTIMUS
Catalog excerpts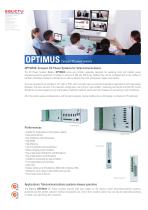 UNINTERRUPTIBLE POWER SUPPLIES (UPS) LIGTHING FLOW DIMMERSTABILISERS DC POWER SYSTEMS STATIC INVERTERS PHOTOVOLTAIC INVERTERS VOLTAGE STABILISERS TECHNICAL SUPPORT & SERVICE Compact DC power systems OPTIMUS: Compact DC Power Systems for Telecommunications The DC Power Systems Salicru OPTIMUS series are rectifiers especially designed for supplying small and medium power telecommunications equipment. Produced in versions of 300 and 700 W per module, they can be configured both in the number of rectifiers and battery breakers or distribution in order to adapt to the most varied power supply requirements. They are conceived to be included in 19" racks or ETSI, and 2 sub-racks can be connected in parallel in applications with larger power demands. The main sub-rack, in its maximum configuration, has 3 plug-in type rectifiers, monitoring and control unit MS-100, current distribution unit with capacity for up to 8 breakers of different calibres, alarm card and 2 breakers for connecting 2 sets of batteries. All of the system values and parameters, and the alarm category, may be modified by an LCD display or software for PC (optional). . Suitable for single phase or three-phase supplies. . Great power density. . Easy installation and maintenance. . High MTBF. . High efficiency. . Low cost operation and maintenance. . Battery charging current limitation. . Plug-in type output distribution unit (8 breakers). . Plug-in type battery unit (2 breakers). . Suitable for connecting any type of battery. . Front input/output and connectors. . Alarm card. . Breaker calibre up to 30 A (Optimus 300) or 60 A (Optimus 700). . Modularity: up to 3 plug-in type rectifiers per sub-rack. . Power factor close to the unit. Supply and alarm unit Applications: Telecommunications systems always operative The Salicru OPTIMUS DC Power Systems provide high level supply to the always critical telecommunications systems, guaranteeing their perfect operation without unexpected cuts. Due to their modular nature, they can also be expanded according to needs, thus optimising the investment.
Open the catalog to page 1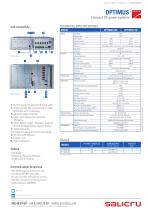 REF. JM585B01 CODE 401AB000366 ED. MARCH 2014 DC POWER SYSTEMS Compact DC power systems TECHNICAL SPECIFICATIONS MODEL INPUT AC voltage Voltage range Power factor Nominal current Maximum current Efficiency Input fuse 10 A and overtemperature Volatge adjustment ± 0.1% (with battery full charged) Accurancy Nominal power Maximum subrack power Nominal current (per module) Response time ± 0.1% (10% a 100% load steps) Output fuse 25 A Maximum ripple Single or three phase Active Power Factor Correction (PFC) Against 5 kV transients (8 / 20 impulses µs) Dielectric strenght 1500 Vac, 1 minute, input...
Open the catalog to page 2
All SALICRU catalogs and technical brochures

Archived catalogs

Compare up to 10 products