Catalogs

>

SALICRU

>

FAC P
Catalog excerpts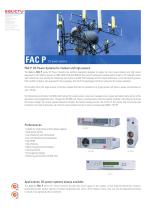 UNINTERRUPTIBLE POWER SUPPLIES (UPS) LIGTHING FLOW DIMMERSTABILISERS DC POWER SYSTEMS STATIC INVERTERS PHOTOVOLTAIC INVERTERS VOLTAGE STABILISERS TECHNICAL SUPPORT & SERVICE FAC P: DC Power Systems for medium and high powers The Salicru FAC P series DC Power Systems are rectifiers especially designed to supply the most varied medium and high power equipment in DC. Made in powers of 1000, 2000, 2700 and 5000 W, they can be connected in parallel and form part of 19" cabinets, where each cabinet can also include the monitoring and control unit (MS-102), batteries and DC output distribution, and a load priority system. Each rectifier module is also prepared for hot swapping, with all of the advantages that this involves for the system operation. On the other hand, the large amount of rectifier modules that can be connected in a single system will allow a power concentration of over 170 kW. The Monitoring and Control Unit (MS-102) controls the whole system, stores and manages input, output and battery data and all of the parameters are programmed here. Through the RS-485 port, there is communication with the rectifier modules, controlling at all times the output voltage, the current spreads between modules, the battery loading current, the control of the priority and non-priority load contactors, the ends of autonomy, etc. Exterior communication may be in local or remote mode (GSM / TCP-IP). . Suitable for single phase or three-phase supplies. . Great power density. . Easy installation and maintenance. . Low cost operation and maintenance. . High MTBF. . High efficiency. . Battery charging current limitation. . Unit power factor. . Hot swapping modules. . Monitoring and Control Unit (MS-102). Applications: DC power systems always available The Salicru FAC P series DC Power Systems provide high level supply to the always critical telecommunications systems, guaranteeing their perfect operation without unexpected cuts. Due to their modular nature, they can also be expanded according to needs, thus optimising the investment.
Open the catalog to page 1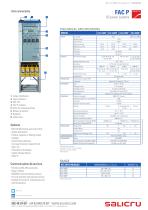 REF. JM581B01 CODE 401AB000392 ED. MARCH 2014 POWER SYSTEMS Unit connectivity DC power systems THECHNICAL SPECIFICATIONS MODEL Ac voltage Volatge range Power factor Nominal current Maximum current Nominal power Nominal current Psophometric noise Active parallel Load sharing Power factor corrector (PFC) Type Charging curve Charging current Recharging time Output distribution. Input protection. MS-102. FAC P modules. Slots for increasing power. Battery protection. Batteries. Cable input. Against over-voltages and under-voltages Dielectric strenght Protection degree ac. to standards . MS-102...
Open the catalog to page 2
All SALICRU catalogs and technical brochures

Archived catalogs

Compare up to 10 products