Catalogs

>

Rohde AG

>

FG
Catalog excerpts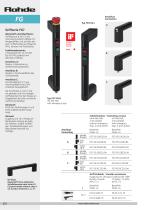 FG Griffserie FG7 Werkstoff und Oberflache: Griffsteg aus 0 30 x 5 mm Aluminiumrundrohr AlMgSi 0,5; feingeschliffen und schwarz elo-xiert. Griffschenkel aus Polyamid PA 6, schwarz mit Feinstruktur. Funktionselemente: 2 Drucktaster bis 1A mit LED. Typ FG7-05 zusatzlich mit Not-Halt (2 Offner). Anschluss A: Stecker in Rohrachse im Griffschenkel positioniert. Anschluss B: Stecker in Anschraubflache des Griffschenkels. Anschluss C: Anschlussleitung 5 m aus Anschraubflache des Griffschenkels herausgefuhrt. Die Anschlusse A und C sind mit geraden und mit schragen Griffschenkeln fur den Einsatz an Doppelturen als linke und rechte Ausfuhrung lieferbar. Schutzart: IP 65 (fur Ausfuhrungen A und B bei aufgeschraubter Kupp-lung). Typ FG7-05.G mit Not-Halt with emergency stop Anschluss Connection Hinweis: Kupplung mit 10 m fertig kon-fektionierter Leitung als Zube-hor lieferbar. Andere Grifflan-gen, Eloxalausfuhrungen und beleuchteter Not-Halt auf Anfrage. Schaltfunktion / Switching version ohne Not-Halt, mit Not-Halt, without emergency with emergency stop, 2 push button stop, 2 push button Anschluss Bestell-Nr. Bestell-Nr. Griff-Zubehor / Handle accessories Kupplung mit Leitung/Coupling with cable 8-polig / 8-pole 12-polig / 12-pole Bestell-Nr. Bestell-Nr.
Open the catalog to page 1
FG Technische Daten / Technical data Typ FG7-02 FG7-05 mit 2 Drucktastern zusatzlich Not-Halt with 2 push buttons add. emergency stop Handle Series FG7 Material and surface: Handle ledge 0 30 x 5 mm aluminium round tube AlMgSi 0.5; fine ground and black anodized. Handle shanks of polyamide PA 6, black with fine structure. Function elements: 2 Push buttons up to 1A with LED. Type FG7-05 with additional emergency stop (2 NC contacts). Connection A: Coupling positioned at the tubular axle of the handle ledge in the handle shank. Connection B: Coupling positioned in the mounting...
Open the catalog to page 2
All Rohde AG catalogs and technical brochures

Compare up to 10 products