Catalogs

>

QATM

>

SAPHIR X-CHANGE
Catalog excerpts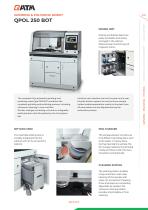 Polishing & grinding robot DOSING UNIT Dosing and bottles depot are easily accessible and clearly arranged in the cabinet. SAPHIR X-CHANGE The compact fully automatic grinding and polishing robot Intuitive user interface via touch screen and a user friendly SAPHIR X-CHANGE combines the complete grinding and fixation system for central force sample holder enable polishing process, including ultrasonic cleaning in one machine. preparation results in shortest time. 16x disc changer, 6x dosing unit and an integrable All parameters can be adjusted during the automatic process. sedimentation tank fits perfectly into the System lab. SETTLING TANK The insertible settling tank is invisibly integrated into the cabinet with all its connections (option). DISC CHANGER The storage elevator contains up to 16 different grinding discs, such as SiC paper or Galaxy discs. During cleaning the sample, the foil changer replaces the grinding media and fixes it with the Vacu-Jet system automatically. CLEANING STATION The cleaning station enables a fully automatic multi-step cleaning of the sample with water, air and alcohol. Cleaning times and steps are completely adjustable as needed. The ultrasonic cleaning station provides intermediate or final cleaning.
Open the catalog to page 1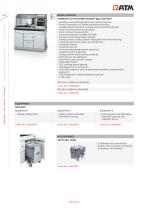 SAPHIR X-CHANGE BASIC MODULE SAPHIR X-CHANGE GRINDING & POLSHING ROBOT » grinding- and polishing robot with central pressure » intuitive operation via ATM touchscreen surface » variable speed control of working weel and polishing head » same & counter direction grinding » stock removal measurement » automatic abrasive changer (16-fold) » abrasive carier fastening by Vacujet » working wheel cooling / bowl rinsing with intervall switching » cleaning station with water, air and ethanol » ultrasonic cleaner » 6-fold dosing unit (4x diamond supension, 1x lubricant, 1x fine polishing...
Open the catalog to page 2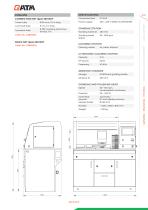 Polishing & grinding robot SAPHIR X-CHANGESPECIFICATIONS ABRASIVE CHANGER CLEANING STATION Cleaning media air, water, ethanol ULTRASONIC CLEANING STATION Capacity 2 L GRINDING AND POLISHING HEAD
Open the catalog to page 3
All QATM catalogs and technical brochures

Archived catalogs
Compare up to 10 products