Catalogs

>

QATM

>

Saphir 375
Catalog excerpts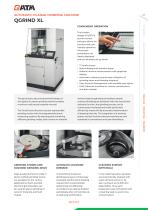 System grinder SAPHIR 375 TOUCH-SCREEN-OPERATION All relevant parameters are clearly shown on the large 8.4" touch display during the grinding process. The grinding process can be easily programmed by tapping the different colored icons. Created processes can be password protected and stored with individual information. The Saphir 375 is equipped with an USB port for fast data transfer, program backups, and updates. Remote maintenance can be enabled via an Ethernet interface. The System Grinder SAPHIR 375 is a solid free-standing unit Automatic material removal monitors the removal rate and for effective, plane grinding with a stone. controls the dressing process. All relevant parameters can be The grinding head with central pressure is equipped for displayed, adjusted and saved via the clear touch-screen clockwise or counter-clockwise rotation, and optimally adjustable interface. A recirculating coolant system is integrated into the with variable speed and pressure. modular type aluminium construction. System lab construction enables variable combinations MATERIAL REMOVAL MEASUREMENT The removal depth can be programmed from 0.01 - 5.00 mm with a stock removal accuracy of 0.1 mm. In fully automatic mode, the stone's dressing frequency is determined and controlled automatically during the grinding process. Stones may also be dressed at predetermined intervals as well as manually. Initial dressing occurs automatically when setting up a new stone. Remaining stone usage and processes are dynamically displayed on the screen. SAFETY CONCEPT The grinding process is activated with Two-Handed Control. The abrasive stone is fully enclosed during the grinding cycle. A safety sensor prevents grinding to occur without grinding stone cover. The grinding process cannot be started before setting up the stone.
Open the catalog to page 1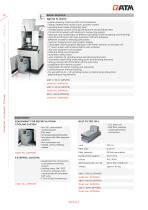 System ginder SAPHIR 375 BASIC MODULE SAPHIR 375 Order No.: A5810290 » free standing grinder with powerful drive » central pressure » grinding head Rubin 530 with variable speed » intuitive operation via Touch-Screen » controlled removal » automatic, interval controlled dressing » grinding disc fully enclosed during grinding » integrated in System Lab cabinet made of aluminium, powder coated ADAPTION FOR GRINDING STONE Equipment! Order No: A5810291 » adaption for ATM standard grinding stone (glued carrier plate) ACCESSORIES RECIRCULATION COOLING SYSTEM WITH INSERTION MECHANISM BELT FILTER...
Open the catalog to page 2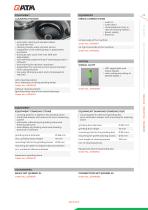 All QATM catalogs and technical brochures

Archived catalogs
Compare up to 10 products