Catalogs

>

QATM

>

OPAL 410
Catalog excerpts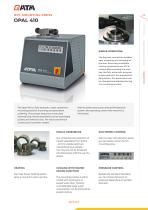 Hot mounting press SIMPLE OPERATION The bayonet connection enables easy loosening and swinging to the side. Externally accessible closure components are PTFE-coated. After pressing the start key, the fully automatic program is executed with the preselected parameters. The parameters can be changed and adjusted during the mounting process. MOULD ASSEMBLIES Our comprehensive selection of mould assemblies from 0 25.2 - 40 mm enables optimum mounting of your sample. Two mounts can be produced simultaneously with the use of a spacer. ELECTRONIC CONTROL With its clear LCD operation panel you can easily control the hot mounting press. The OPAL 410 is a fully hydraulic, water cooled hot The robust aluminium construction is powder coated. mounting press for mounting samples before polishing. With its solid construction and ATM hydraulic system, the The process sequence is executed automatically. operating noise of the machine is minimized. Mould assemblies can be exchanged quickly and without tools. HEATING Our high-power heating system gives a very short warm-up time. COOLING WITH WATER-SAVINGFUNCTION The mounting process is either cooled with continuous or pulsed water flow. Thereby, a considerably lower water consumption can be achieved by pulsed cooling. PRESSURE CONTROL Besides the standard operation, you can choose between six pressures depending on sample diameter.
Open the catalog to page 1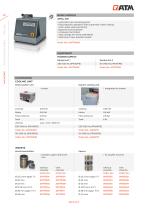 OPAL 41 0 BASIC MODULE OPAL 410 Order No.: M0770000 » automatic hot mounting press » fully hydraulic operation with automatic water cooling (with water saving function) » bayonet closure system » computer controlled » easy change of mould assemblies » aluminium case, powder coated EQUIPMENT Equipment 2 110 V/60 Hz (1Ph/N/PE) Order No.: A0770001 ACCESSORIES COOLING UNIT Recirculation unit » extern System cooling unit » integrated in drawer Mould assemblies » cylinder, upper and lower ram Order No.: 0 25.2 mm (appr. 1") Z0770101 0 30 mm Z0770102 Spacer » for double mounts Order No: 0 25.2...
Open the catalog to page 2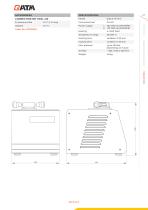 Hot mounting press OPAL 41 0 CONNECTION SET Order No.: Z0730003 2x pressure tube R 2 m long Adapter for %" WxHxD 350 x 400 x 450 mmWeight 40 kg Heating 4 x 500 Watt Temperature range 0 - 200 °C Heating time variable / 0 - 30 min Cooling time variable / 0 - 30 min
Open the catalog to page 3
All QATM catalogs and technical brochures

Archived catalogs
Compare up to 10 products