Catalogs

>

QATM

>

KRISTALL 650
Catalog excerpts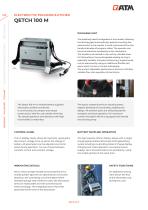 KRISTALL 650 POLISHING UNIT The polishing head is integrated in the handle. Polishing and etching gets automatically ready by touching the piezo button in the handle. A multi-coloured LED on the handle indicates all program states. The operator can focus his attention completely to the checkpoint. The handle is connected to the unit by a flexible hose. For flat surfaces, the exchangeable sealing-lip ring is especially suitable. Complex surfaces (e.g. angled areas) can be examined by using an additional flexible end piece which can be cut to size individually. The pump's adjustable performance allows an infinitely variable flow rate regulation of electrolyte. Kristall 650 The KRISTALL 650 is a mobile battery supplied electrolytic polisher and etcher. It convinces by its compact and robust construction, ideal for use outside of the lab. The simple operation simultaneous with high functionality is matchless. The epoxy-coated aluminium housing meets highest demands on fuctionality, stability and design. All sensitive parts are well protected for transport and local operation. For maximum comfort the Kristall 650 is equipped with handle and carrying strap. CONTROL PANEL The LC-display clearly shows all important parameters like current, voltage, time as well as the charge of battery. All parameters can be adjusted via control panel during operation. You can choose between constant current and constant voltage. INNOVATIVE DETAILS Micro motor, straight handle and accessories of our mobile grinder Saphir 300 can optionally be connected directly to the controlling unit of the Kristall 650 (suitable storage area inside the case). The electrolyte tanks are replaceable and with screwed top for external storage. The integrated return-flow filter optimizes the life time of the electrolyte. BATTERY SUPPLIED OPERATION The high capacity lithium battery allows with a single charge approximately 150 simple etching/ polishing cycles including pre-grinding (state of charge display, charging and mains operation via external power supply). Up to 30 examinations are possible by using the mobile grinder at the same time.
Open the catalog to page 1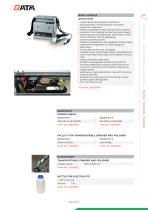 KRISTALL 650 BASIC MODULE KRISTALL 650 Order No.: M6201000 » mobile electrolytic polisher and etcher » fully automatic, microprocessor controlled programm sequence » battery supplied by high capacity lithium battery » operation and charging by external power supply » polishing head with automatic start-stop function and multicolour LED for displaying current operating states » infinitely variable flow rate regulation of electrolyte » additional locking valve to avoid leakage of electrolyte » control panel with clear LC display » variable power and voltage supply, adjustable time »...
Open the catalog to page 2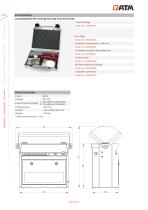 Electrolytic polisher and etcher KRISTALL 650 ACCESSORIES ACCESSORIES SET FOR KRISTALL 650 IN SUITCASE Order No.: Z6201001 » set including: 5x V-ring 1x profile ring-material (~ 150 mm) 1x flexible end piece for profile ring 1x tube cutter 10x filter pads (0 40.5 mm) 1x dolphin connector Order No.: 95003955 » with screw top SPECIFICATIONS Power
Open the catalog to page 3
All QATM catalogs and technical brochures

Archived catalogs
Compare up to 10 products