Catalogs

>

QATM

>

Brillant 200
Catalog excerpts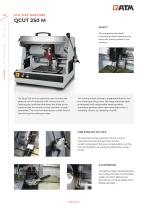 Wet abrasive cut-off machine SA FE T Y The integrated standstill monitoring allows opening only when the cutting wheel is not rotating. BRILL ANT 200 The BRILLANT 200 is an especially user-friendly wet abrasive The cutting wheel cooling is integrated directly into the wheel cut-off machine with manual cut-off. Opening the machine folds guarding cover. The large, stainless table is equipped with repla- away the hood to the inside so that the whole cutting chamber is ceable wearing plates. easily accessible. The round window opens a wide field of view Transverse grooves allow optimized alignment of clamping vices during the cutting process. FINE DYNAMIC CUT-OFF The manual cutting movement of the Y-axis is executed precisely and jerk-free via lever. Length and angle of the lever are adjustable. Further, the cutting depth can easily be adjusted by using a limiter. ILLUMINATION Through the large rounded window, the cutting chamber is comfortably visible. For direct lighting, the Brillant 200 can be equipped with a flexible LED light.
Open the catalog to page 1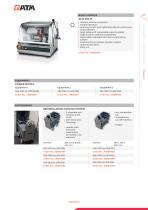 Wet abrasive cut-off machine BRILLANT 200 BASIC MODULE BRILLANT 200 Order No.: M1880000 » manual vertical movement » simple operation » opening on left- and righthand side for continuous long materials » large table with replaceable wearing plates » large hood for optimal accessibility » latest safety standard with door interlocking system » solid aluminium design, powder coated » optional LED lamp » Easy-nut RECIRCULATION COOLING SYSTEM » inlet sieve and filter bag » controlled by cut-off machine Mobile, with insertion mechanism for System Lab cabinets 400 V/50 Hz (3Ph/PE) Order No.:...
Open the catalog to page 2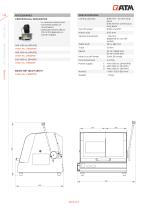 Wet abrasive cut-off machine BRILLANT 200 ACCESSORIES CENTRIFUGAL SEPARATOR » to remove coolant mist » increases quality of illumination » exhauster power 180 or 215 m3/h (depends on power supply) SPECIFICATIONS Cutting capacity
Open the catalog to page 3
All QATM catalogs and technical brochures

Archived catalogs
Compare up to 10 products