Catalogs

>

PRO-51 Universal Mag Drill
Catalog excerpts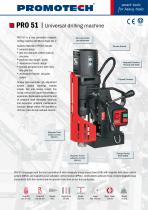 Universal drilling machine PRO 51 is a new generation magnetic drilling machine with Morse Taper No. 2 Superior features of PRO51 include: • compact design • gear box and slide system made as one piece • excellent ratio weight / power • maintenance friendly design • purpose designed motor with heavy duty gear box • maintenance friendly rail guide system Service friendly Integrated Gearbox Housing with Slide Unique semi-automatic gib adjustment system (patent pending) enables simple, fast and always correct fine tuning without any expert knowledge or experience. Replaceable spline at the end of armature shaft eliminates laborious and expensive armature maintenance. Compact design allows the operator to drill very close to side wall and corners. Magnetic Field Shape Control (MFSC) Energy Saving Base (ESB) Magnetic Power Adhesion Control (MPAC) PRO 51 is equipped with the latest generation of electromagnetic energy saving base (ESB) with magnetic field shape control system (MFSC) and magnetic power adhesion control module (MPAC), which detects adhesive force of electromagnetic base and protects both the machine and the operator from work on too thin workpieces.
Open the catalog to page 1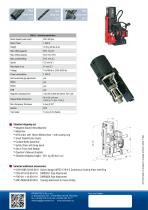 Motor Power Power consumption Magnetic clamping force Magnet Base Dimensions Tool holder Standard shipping set: • Magnetic Base Drilling Machine • Metal Box • MT2 Arbor with 19mm Weldon Bore – with cooling ring • Swarf Shield/Cutter Guide • Coolant Bottle Assembly • Safety Chain with Snap Hook • Set of Tools with Wedge • Operator's Manual (English) • Standard shipping weight – 26,1 kg (56 lbs 5 oz) Selected additional accessories: • UCW-0285-03-00-00-0 Quick Change AMTE2-C19/2-2 Continuous Cooling Arbor with Ring • PDS-0110-03-00-01-0 DMP0251 Pipe Attachment • PDS-0111-10-00-01-0 DMP0500...
Open the catalog to page 2
All Promotech catalogs and technical brochures

Compare up to 10 products