Catalogs

>

Compression digital load cell CDL – 30t
Catalog excerpts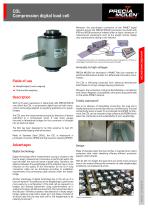 CDL Compression digital load cell Moreover, the star-shaped connection of the PM.NET digital network around the PRECIA MOLEN connection box (itself with IP68 and IP69K protection indexes) offers a direct connection of measurement equipments such as the weight remote display thus avoiding extra cabling to the indicator. Immunity to high voltages Fields of use  Weighbridges (trucks, wagons).  Tank and silo weighing. Description With its 15 years' experience in digital load cells, PRECIA MOLEN now offers the CDL, a compression digital load cell with monocolumn technology adapted to weighing applications for weighbridges. The CDL uses the measurement principle by distortion of beams submitted to a compression strain. It uses strain gauges mounted in Wheatstone bridges for the conversion of strength into an electrical signal. PRECIA MOLEN has developed a PM.NET field bus resistant to electrical disturbances thanks to a differential information transmission. * Putting back into service in compliance with the present regulations, in France, an Initial Repair Verification has to be performed every fortnight. The CDL is efficiently protected from electrical disturbances itself thanks to its high voltage clipping protections. Moreover, the connection of all grounded shielding in compliance with Electro Magnetic Compatibility rules grants equipotentiality on the whole PM.NET network. Totally waterproof Due to its absence of detachable connection, this load cell is totally waterproof as proved by tests by a certified body. This load cell perfectly works in water for a prolonged time (IP68). Furthermore, the CDL can be cleaned by high pressure jet (IP69K) which eases the maintenance and sustainability of your weighbridge. The CDL has been designed to be little sensitive to load offcentring while keeping small dimensions. Made of Stainless Steel (304L), the CDL is waterproof in prolonged immersion (IP68) and high pressure cleaning (IP69K) Advantages Digital technology Digital technology offers measurement accuracy closest to the load to weigh, measurement conversion is performed within the load cell itself, the load cell sends a digital value. Therefore, the distance between the weighbridge and the indicator has no more influence on the quality of the information. So the 15-m long connection cable can be shortened according to installation requirements thus preventing cable strands under the weighbridge. Made of stainless steel, the load cell has in standard anti-rodent protection with metal sheathing offering efficient protection against rodent attacks. With its 125-mm height, this load cell is one of the most compact ones in the market offering the renovation of older weighbridges simplifying civil engineering works.. French manufacture. Another advantage of digital technology lies in the set-up of a load cell network. The balancing of the weighbridge is performed more easily by a configuration of the load cell as opposed to a lengthy and delicate adjustment using potentiometers as in analog technology. All data are stored into the load cell but also in the indicator. Therefore, besides a fast detection of faulty weighbridge, replacing a load cell is easier as it only takes a transfer of all stored data into the new load cell for the weighbridge to be instantly functional.*.
Open the catalog to page 1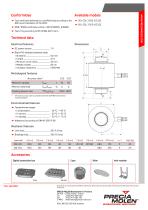 Available models  Test certificate delivered by a certified body according to the  IP68 / IP96K certificate number: LCIE N°118526_636680.  Test in fog according to NF EN ISO-9227 norm. Technical data Electrical features  Black PVC shielded sheathed cable: Metrological features Accuracy class* Maximum capacity Minimum dead load Checking division ratio Environmental features The C3.5 accuracy class is compliant with the IOLM R60 international recommendation . Load cell Accessories Digital connection box Your specialist DJB 6/8 Illustrations not contractual. Precia-Molen reserves the right...
Open the catalog to page 2
All PRECIA MOLEN catalogs and technical brochures

Archived catalogs

Compare up to 10 products