Catalogs

>

VHF50B43-BU
Catalog excerpts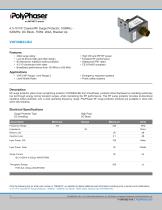 4.3-10 F/F Coaxial RF Surge Protector, 100MHz 520MHz, DC Block, 750W, 20kA, Bracket Up 20kA surge rating Low let-throuh high pass filter design Bi-directional, repetitive strike protection 4.3-10 connectors both sides Broadband performance from 100 MHz to 520 MHz High CW and PIP RF power Excellent RF performance Waterproof IP67 rated CE & RoHS compliant Applications • VHF/UHF Range 1 and Range 2 • Land Mobile Radio • Emergency response systems • Public safety systems Description RF surge protector (also known as lightning arrestor) VHF50B43-BU from PolyPhaser, protects critical hardware by maintainig extremely low let-through energy during transient surges, while maintaining the RF performance. This RF surge protector provides bi-directional repetitive strike protection over a wide operating frequency range. PolyPhaser RF surge protector products are available in stock with same day shipping. Electrical Specifications Surge Protector Type DC Handling Description Frequency Range High Pass DC Block Minimum Return Loss Insertion Loss Input Power, Peak Surge Current Click the following link (or enter part number in "SEARCH" on website) to obtain additional part information including price, inventory and certifications: 4.3-10 F/F Coaxial RF Surge Protector, 100MHz - 520MHz, DC Block, 750W, 20kA, Bracket Up VHF50B43-BU VHF50B43-BU REV 1.2 | © 2020 Infinite Electronics, Inc. PolyPhaser is a registered trademark of Infinite Electronics, Inc.
Open the catalog to page 1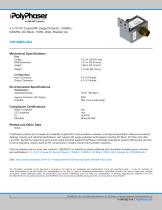 rPolyPhaser an INFINITE] brand Mechanical Specifications Size Length Width/Diameter Height Weight Configuration Input Connector Output Connector Environmental Specifications Temperature Operating Range Ingress Protection (IP) Rating Humidity Compliance Certifications RoHS Compliant CE Compliant UL Standard Plotted and Other Data Notes: PolyPhaser protects and increases the reliability of global RF communications networks, including transportation, telecommunications, defense, security and industrial applications, with superior RF surge protection technologies including DC Block, DC Pass and...
Open the catalog to page 2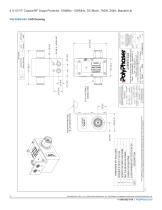 WASHER 5/16 EXT 18-8 SS SCREW CAP M8X1.25X10MM NUT 3/4-28 HEX SS PANEL O-RING 018 SILICONE LOCK WASHER INT TOOTH 3/4 SS DESCRIPTION THESE COMMODITIES, TECHNOLOGY OR SOFTWARE WERE EXPORTED FROM THE UNITED STATES IN ACCORDANCE WITH THE EXPORT ADMINISTRATION REGULATIONS. DIVERSION CONTRARY TO U.S. LAW PROHIBITED. MOUNTING BRACKET IN 'UP' ORIENTATION ALL DIMENSIONS SHOWN ARE FOR REFERENCE ONLY. CABLE LENGTH (L) TOLERANCES: UNLESS OTHERWISE SPECIFIED LEADING DIMENSIONS ARE INCHES DIMENSIONS IN [ ] ARE MILLIMETERS SIZE CAGE CODE DRAWN BY PART NUMBER THE INFORMATION AND DESIGN IN THIS DOCUMENT IS...
Open the catalog to page 3
All PolyPhaser | Transtector catalogs and technical brochures

Compare up to 10 products