Catalogs

>

PP-WM24S
Catalog excerpts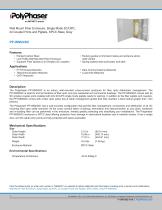 rPolyPhaser an INFINITE] brand Features • Painted Carbon Steel • Low Profile Wall Mounted Fiber Enclosure • Supports Fiber Splices to 24 Simplex SC couplers Applications • FTTH Access Networks • Telecommunication Networks • CATV Networks • Routing guides to limit bend radius and enhance strain-relief control • Spring loaded press-pull button lock latch • Data Communications Networks • Local Area Networks Description The Polyphaser PP-WM24SC is an indoor, wall-mounted cross-connect enclosure for fiber optic distribution management. The PP-WM24SC is ideal for end terminations of fiber optic runs into residential and commercial buildings. The PP-WM24SC comes with 24 SC simplex coupler ports installed with 24x SC/UPC single mode pigtails ready for splicing. In addition to the fiber pigtails and couplers, the PP-WM24SC comes with a fiber optic splice tray & cable management guides that help maintain a bend radius greater than 1.6in [40mm]. The Polyphaser PP-WM24SC has a wall-mounted configuration that permits fiber management, connectivity and distribution of 24 SC incoming fiber optic cable channels. All the cross connect tasks of splicing, termination and interconnection to your plant, backbone and in-building fiber can be performed in the enclosure, thereby greatly protecting and simplifying your installations. The Polyphaser PP-WM24SC enclosure is SPCC steel offering protection from damage in stand-alone locations and in network closets. It has a single door, and the cable entry points are fully protected and easily accessible. SPCC Steel Mechanical Specifications Size Outer Height Outer Width Outer Depth Weight Enclosure Material Environmental Specifications Temperature Continuous Click the following link (or enter part number in "SEARCH" on website) to obtain additional part information including price, inventory and certifications: Wall Mount Fiber Enclosure, Single Mode SC/UPC, 24 Coupler Ports and Pigtails, SPCC Steel, Gray PP-WM24SC PP-WM24SC REV 1.0 | © 2020 Infinite Electronics, Inc. PolyPhaser is a registered trademark of Infinite Electronics, Inc.
Open the catalog to page 1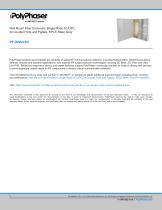 rPolyPhaser an INFINITE] brand PolyPhaser protects and increases the reliability of global RF communications networks, including transportation, telecommunications, defense, security and industrial applications, with superior RF surge protection technologies including DC Block, DC Pass and Ultra Low PIM. Backed by responsive service and expert technical support PolyPhaser continually expands its product offering and services to serve engineers' urgent needs for RF components in mission critical communication networks. Click the following link (or enter part number in "SEARCH" on website) to...
Open the catalog to page 2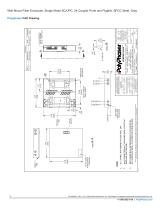 8X CABLE ENTRY & EXIT GROMMETS ALL CONNECTORS ACCOMPANIED WITH A DUST CAP INSTALLED (NOT SHOWN). ENCLOSURE SHALL BE INDIVIDUALLY PACKAGED IN ACCORDANCE WITH L-COM SPECIFICATION PS-0031. THESE COMMODITIES, TECHNOLOGY OR SOFTWARE WERE EXPORTED FROM THE UNITED STATES IN ACCORDANCE WITH THE EXPORT ADMINISTRATION REGULATIONS. DIVERSION CONTRARY TO U.S. LAW PROHIBITED. SC CONNECTOR ASSEMBLY POLISH TYPE: UPC LATCH & LOCK SPLICING TRAY LOGO LABEL PLACE APPOX AS SHOWN HINGE SIDE 0 ALL DIMENSIONS SHOWN ARE FOR REFERENCE ONLY. CABLE LENGTH (L) TOLERANCES: SIZE CAGE CODE DRAWN BY DATE TOZA THE...
Open the catalog to page 3
All PolyPhaser | Transtector catalogs and technical brochures

Compare up to 10 products