Catalogs

>

Polynest-Extra Deep
Catalog excerpts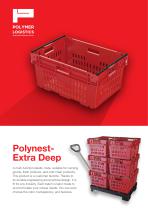 PolynestExtra Deep A multi-function plastic crate, suitable for carrying goods, fresh produce, and cold chain products. This product is a customer favorite. Thanks to its durable engineering and practical design, it is fit for any industry. Each batch is tailor made to accommodate your unique needs. You can even choose the color, transparency, and features.
Open the catalog to page 1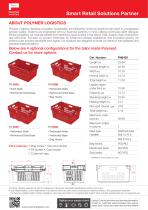 Smart Retail Solutions Partner ABOUT POLYMER LOGISTICS Polymer Logistics develops innovative, sustainable, and efficiently functional solutions that result in unsurpassed product quality. Systems are engineered with our business partners in mind, utilizing continuous client dialogue. Working together, we mutually benefit from identifying opportunities in the field of OSA, Supply Chain productivity, and store look. Focused on product freshness, an enhanced shopper experience, and innovative growth, we strive to push industry standards even higher. Our solutions are designed to excite our...
Open the catalog to page 2
All Polymer Logistics catalogs and technical brochures

Compare up to 10 products