Catalogs

>

Plastifer - Filterkit, ACTIVATED CARBON FILTER CANISTER
Catalog excerpts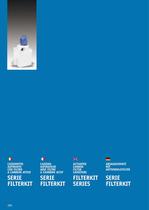 CASSONETTO ASPIRANTE CON FILTRO A CARBONI ATTIVI SERIE FILTERKIT CAISSON ASPIRATEUR AVEC FILTRE A CHARBON ACTIF SERIE FILTERKIT ACTIVATED CARBON FILTER CANISTERS ABSAUGEINHEIT MIT AKTIVKOHLEFILTER FILTERKIT SERIES SERIE FILTERKIT 194
Open the catalog to page 1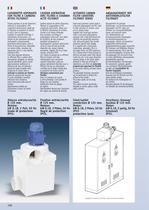 11 CASSONETTO ASPIRANTE CON FILTRI A CARBONI ATTIVI FILTERKIT Sistema aspirante di piccole dimensioni, realizzato in polipropilene e PVC, componenti anticorrosione, ideale per la filtrazione di esalazioni di solventi, di acidi e fumi di stagnatura. Completo di aspiratore centrifugo in polipropilene anticorrosione, con ventola ad alto rendimento equilibrata staticamente e dinamicamente, guarnizione anticorrosione contro il rischio di fuoriuscita fumi, disponibile con motore trifase, monofase, per regolazione, EEx-d o a due velocit, protezione IP55. L'aria viene depurata attraverso un...
Open the catalog to page 2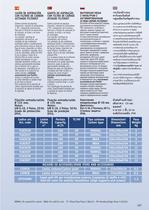 CAJON DE ASPIRACION CON FILTROS DE CARBON ACTIVADO FILTERKIT Sistema aspirante de pequenas dimensiones, realizado en polipropileno y PVC, componentes anticorrosivos, ideal para la fltracin de emanaciones de solventes, de cidos y de humos de estanadura. Con aspirador centn'fugo de polipropileno anticorrosivo, con ventilador de alto rendimiento equilibrado esttica y dinmicamente, junta anticorrosiva contra el riesgo de fuga de humos, disponible con motor trif⢢sico, monofsico, regulable, EEx-d o de dos veloddades, protecdn IP55. El aire se depura a trav⴩s de un eficiente filtro de carbn...
Open the catalog to page 3
All PLASTIFER catalogs and technical brochures
Compare up to 10 products