Catalogs

>

Water Jet Cutting Machine PEG-1530
Catalog excerpts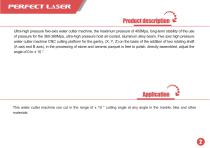 Ultra-high pressure five-axis water cutter machine, the maximum pressure of 400Mpa, long-term stability of the use of pressure for the 360-380Mpa, ultra-high pressure host air-cooled, aluminum alloy beam. Five axis high pressure water cutter machine CNC cutting platform for the gantry, (X, Y, Z) on the basis of the addition of two rotating shaft (A axis and B axis), in the processing of stone and ceramic parquet is free to polish, directly assembled, adjust the angle of 0 to ± 10 °. This water cutter machine can cut in the range of ± 10 ° cutting angle at any angle in the marble, tiles and...
Open the catalog to page 2
♦ 1 .When the high pressure water cutting head of the water cutting machine control at 0-4 °, the two pieces of the workpiece to complete the cutting can be achieved on the surface without cracks, the next surface of the gap effect. This eliminates the need for manual secondary grinding process, in order to improve efficiency ♦ 2.This water cutter machine can reduce processing costs, improve the environment, and then create a clean parquet, improve quality. ♦ 3.When it works, the water cutting machine is no longer rely on reducing the high pressure water cutting speed to achieve a more...
Open the catalog to page 3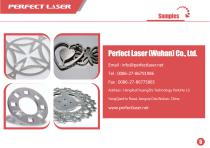 Samples Perfect laser (Wuhan! Co, ltd. Email: info@perfectlaser.net Tel: 0086-27-86791986 Fax: 0086-27-86775865 Address: HengRuiChuangZhi Technology Park,No 13 YangQiaoHu Road, Jiangxia Dist,Wuhan, China www.perfectlaser.net
Open the catalog to page 5
All Perfect Laser Co. catalogs and technical brochures

Archived catalogs

Compare up to 10 products